Currently (as of April 2, 2020), gatherings of more than two people in public space are prohibited. This ban also extends to people meeting in private spaces. Gatherings and demonstrations are generally banned and require an exceptional permit. These regulations regarding the containment of the Corona virus in Berlin can be accessed here.
Virtual meet-ups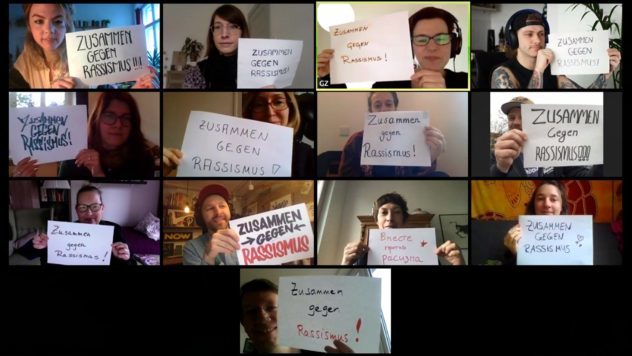 Apart from taking a stance, the next challenge is the ways and means to realize it. Everyone these days is talking about conference calls and online meetings. Thus, meet-ups of alliances can be continued, too. It remains important to keep in touch and each other up to date. But how is it to be done? A precondition is access to a computer or device with microphone, loud speaker, and camera. Most laptops have these integrated. Another precondition is the connection to the internet. There are many software solutions available, for instance Skype, as well as other open-souce platforms, such as Jitsi, Nextcloud, or Signal. These platforms collect fewer user data and focus on favorable privacy settings.
Once all participants have agreed upon a service and have a date and time set, a link is generated to a so-called chat space, and sent to all participants. Everyone clicking the link will meet at the set time in a joint call or chat space. 

However, even if the joy to see each other is huge, a few rules might be helpful to ensure good communication. As there will only be one soundtrack audible at a given time, it is advisable to keep a speaker's list. It also helps if all participants mute their microphones while they do not speak to the group. If the connection is spotty, switch off the camera. Check out all rules in detail here. 
Ideas for online campagins
Even before Covid-19, it was important to take a stance online. Mobilizing for protests in real public space took place online on social media. This is worth remembering in the current situation.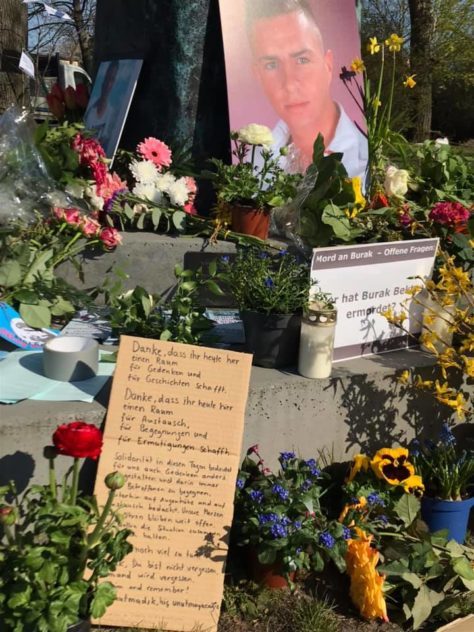 Berlin gegen Nazis recently supported two very successful online campaigns. On occasion of the  Internationalen Tag gegen Rassimus many people joined the call to share social media statements tagged #ZUSAMMENGEGENRASSISMUS.
On the anniversary ot the death of Burak Bektas, the Initiative zur Auklärung des Mordes an Burak mobilized to commemorate him online and individually. Many people went to lay flowers and shared photos and share pics using the hash tag #BurakUnvergessen.
It is vital to design one or several share pics. These are images ready to be shared and distributed. They explain your campaign and are easily recognizable and will inspire users to further creativly engage with your issue. 
Any campaign needs its own hash tag. A hash tag allows users to share and connect their content on social media platforms. All public posts containing a specific hash tag are thus listed and accessible.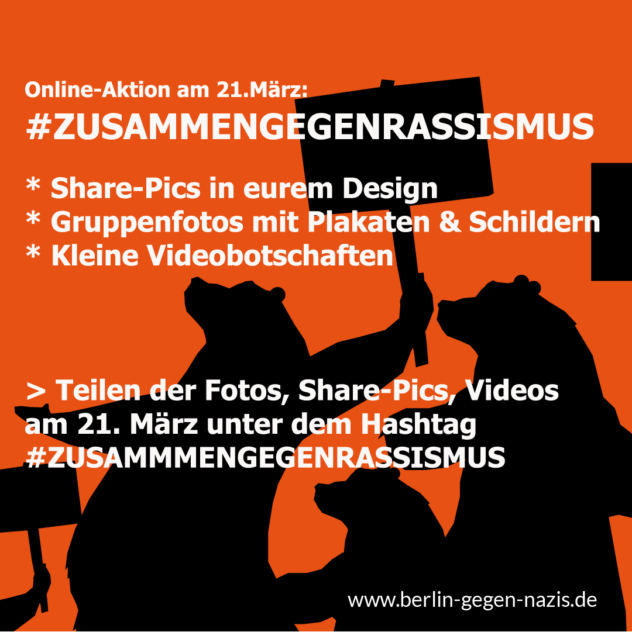 How to pics serve to explain a whole campaign in one image, which is easily distributed. Make sure to share it as widely as possible to gain visibility.
 One idea to link share pics with campaigns in real public space is to use chalk. One could think of many people creating slogans with chalk and maybe stencils and taking photographs to share online. These can be collected to produce insta stories on instagram. Make sure to use chalk which will be easily washed off with the next rainfall. Check our toolbox for further ideas and inspiration. Brainstorm your first ideas to tackle a specific issue you wish to make public. Banners to paper airplanes, protest could be take many forms! However, do keep in mind to check whether your ideas comply with the current regulations! 
Livestream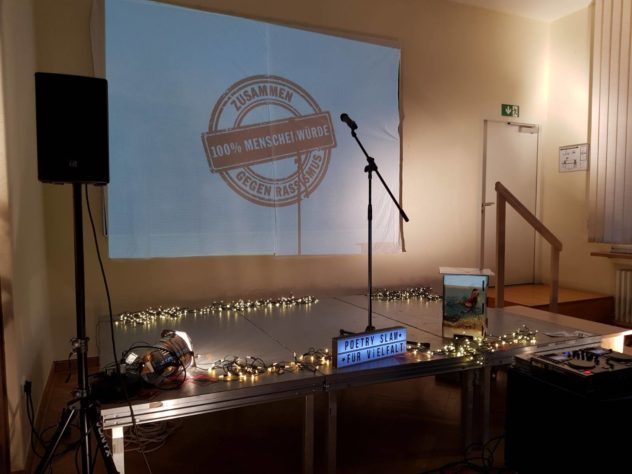 Apart from sharing pics, it is now common to live stream events to broaden your virtual visibility. These require a more detailed planning and preparation, as well as scripting a narration for getting your message across. What is it I wish to show? Which platform is suitable for my purpose? Do I have access to all technical means necessary? A tripod can help shooting better quality video, which makes it possible to use the camera of your smart phone, but still it has to be checked whether the sound quality is sufficient. It might be necessary to switch to professional equipment. 
Of course we do not have the same technical means as our partners of Clubcommission, who aim at saving Berlin-based clubs with their campaign #Unitedwestream. However, you might know someone at your local theater down the street or elsewhere who might be able to assist you with technical questions. In any case, it is advisable to rehearse the recording beforehand. Keep in mind, leaving an online event is just a click away, as opposed to physically leaving the room IRL. Thus, paying attention to be concise and keeping things pleasant to look at and easy to follow is crucial. 

Just as mobilizing with pics, a live stream is best embedded in a wider social media campaign announced and prepared beforehand, which can again be achieved with hash tags and share pics. Once you produce videos or images within your private living spaces or on your balcony, it is always advisable to make sure your exact location cannot be recognized. 
Get in touch with your own ideas on how to protest and take a stance online! Berlin gegen Nazis is here to support and realize your campaign and mobilization efforts.