Background – quick overview
After the gatherings on occasion of the "Querdenken" anniversaries in August 2021, the mobilization of the conspiracy-ideological spectrum in and to Berlin has strongly lost momentum. Already in August, the scene was no longer able to mobilize beyond their own spectrum to Berlin, according to Mobile Beratung gegen Rechtsextremismus Berlin – MBR, as stated in an assessment of the anniversary gatherings. Previously, the conspiracy ideological gatherings in and to Berlin had persisted with weekly, at times even daily, registrations as well as unannounced gatherings of various sizes. This era appears to have come to an end. Nevertheless, there are still registrations and small-scale mobilization campaigns, which at most can take up to 250 people to the streets throughout Berlin. In addition to the city center, demonstration routes are often chosen within residential areas of other districts.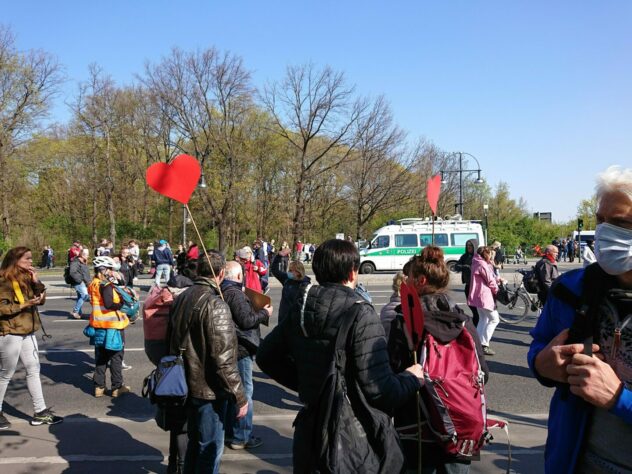 MBR Berlin has repeatedly described the mix of participants since spring 2020 as a diffuse combination of very different milieus whose common denominators are conspiracy narratives, often combined with Nazi trivialization, as well as coded anti-Semitism. These characteristics hold true for the smaller gatherings in Berlin as well. The potential danger at large gatherings in the context of nation-wide mobilization, which has been repeatedly described by MBR Berlin, is lower for the current smaller gatherings. However, at least for people accidentally mistaken for opponents of the gatherings or for representatives of the press on site, it is still given. Overall, since the summer, there has been a persistently lower participation of right-wing extremists at the conspiracy ideology gatherings in Berlin, which, however, continue to be accepted by a large part of the participants. At the same time, the remaining core of the conspiracy ideology spectrum has become increasingly radicalized in 2021.
Further reading:
Mobile Beratung gegen Rechtsextremismus Berlin – MBR
Berliner Zustände – Schattenbericht 2020 vom antifaschistische pressearchiv und bildungszentrum berlin e.V. (apabiz) & der MBR BERLIN
Reagular gatherings in Berlin – Winter 2021/22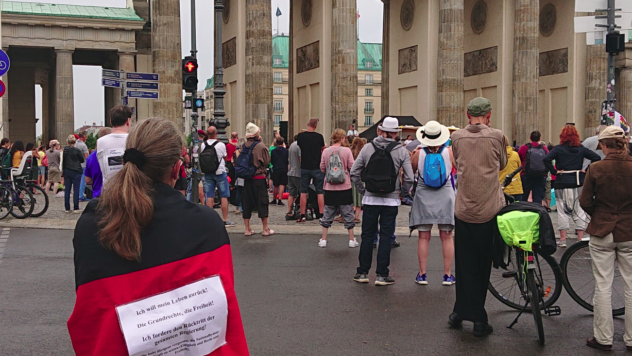 Since March 2021, there is a network of now fifteen micro-groups in Berlin united under the slogan "Demo-Tour – wir sind viele". Most of the groups involved consist of only two to three people. A few well-organized groupings within this structure carry out the joint registrations and their own meetings, which are sometimes attended by people from the further groupings. The so-called "Freedom Parade" acts as the main engine of these gatherings in Berlin. The leading organizer was already present at Rosa-Luxemburg-Platz in April 2020. During the year 2020, the conspiracy-ideological group surrounding him regularly organized small demonstrations, which have been advertised as "Demo-Tour" since March 2021. Detailed background information and impressions of the counter-protests in spring 2021 can be found here. Further documentation on the topic can also be found in the general overview of the positioning & protests against conspiracy ideological gatherings 2020 & 2021 documented in Berlin.
The weekly motorcades which have been held since summer 2020 are not part of the "Demo-Tour" network. At the peak of mobilization in spring 2021, several hundred vehicles participated several times a week in these motorcades, against which there were also inter-district protests – see here. Meanwhile, only about twenty vehicles take part in the motorcades, which take place mostly on Fridays in the evening hours. Berlin against Nazis is posting about these registrations on Twitter.
Furthermore, there are weekly standing announcements from the conspiracy ideology spectrum in Berlin, where 2-10 people gather in different districts at consistent locations on almost every day of the week. From time to time, dance events, picnics, children's festivals, or other activities in parks are also advertised. Often, these are micro-groups from the milieu of "Eltern stehen auf" (Parents stand up), a group networked nationwide via Telegram with many local offshoots.
From time to time, there are also mostly one-off registrations from groups or individuals outside of Berlin who intend to gather in the capital.
Overview map, 04.12.21 – Kreuzberg
(as of 4.12.2021 – 8 a.m., all information subject to change)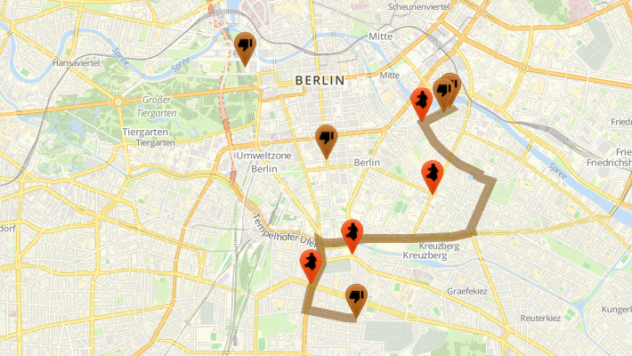 View the map online via our Smartphone-App "Gegen Nazis" ,with optional service of display of your current location. The privacy policy for the APP complies with the EU General Data Protection Regulation (DSGVO) and is available here.
Demonstration routes and rally locations
(as of 4.12.2021, 8 a.m., all information subject to change)
Please note: This information is based on the public assembly database of the State of Berlin, as well as additional information through our own research. The information on assemblies may differ from the assembly database, as we are oftentimes able to provide more up-to-date information, and as the database, for example, does not display banned registrations. Against justified bans of assemblies, the notifying person can contest a judicial clarification in summary proceedings through several instances by legal action. We update our information in case of new developments and sufficient relevance of the notifications. The information provided here does not claim to be complete or exhaustive.
Saturday, 04.12.2021
12.00-6.00 p.m. consiracy ideological motorcade from Lichtenberg to Steglitz
–> Route: Alt-Friedrichsfelde 80 – Alt-Friedrichsfelde – Marzahner Chaussee – Seddiner Str. – Rhinstr. – Alt-Friedrichsfelde – Frankfurter Allee – Warschauer Str. – Mühlenstr. – Str. der Pariser Kommune – Am Ostbahnhof – Andreasstr. – An der Schillingbrücke – Engeldamm – Köpenicker Str. – Neue Jakobstr. – Annestr. – Alte Jakobstr. – Kommandantenstr. – Axel-Springer-Str. – Zimmerstr. – Zimmerstr. / Friedrichstr. 206, Checkpoint Charly (ZK1) – Zimmerstr. – Wilhelmstr. – Mehringdamm – Dudenstr. – Kolonnenstr. – Kaiser-Wilhelm-Platz – Hauptstr. – Helmstr. – Erdmannstr. – Langenscheidtstr. – Grunewaldstr. – Eisenacher Str. – Barbarossaplatz – Eisenacher Str. – Kleiststr. – Wittenbergplatz – Wittenbergplatz (ZK2) – Tauentzienstr. – Kurfürstendamm – Brandenburgische Str. – Fehrbelliner Platz – Brandenburgische Str. – Blissestr. – Laubacher Str. – Wiesbadener Str. – Friedrich-Wilhelm-Platz – Bundesallee – Schloßstr. – Rathaus Steglitz
+++BANNED (Legal process possible) STAND 2.12.21/9.15 a.m. +++ 13.00 – 29.00 Uhr, Märkischer Platz, conspiracy ideological demonstration,
-> route: Wallstr. 47 (Märkischer Platz), Neue Roßstr., Annenstr., Heinrich- Heine- Str., Heinrich- Heine- Platz, Michaelkirchplatz, Engeldamm, Adalbertstr., Kottbusser Tor, Skalitzer Str., Wassertorplatz, Gitschiner Str., Hallesches Ufer, Mehringdamm, Bergmannstr., Marheinekeplatz
1-3  p.m. conspiracy ideological demonstration, Wallstraße, 5 Persons registered
3-5 p.m. weekly Reichsbürgerdemonstration, Platz der Republik,  20 persons registered
6-8 p.m. conspiracy deological call to use Public transport / S-Bahn-Ring-Circle together
Counterprotest:
+++ canncelled +++ 12.00 o'clock Counterprotest bycicle parade "antiverschurbelte aktion", start: Rosa-Luxemburg-Platz
12.30 p.m–2 pm Counterprotest "Geradedenken", Neue Roßstr./Wallstr.
2 p.m. Counterprotest "Geradedenken" Moritzplatz
2.30 p.m. Counterprotest "Omas gegen Rechts Berlin" Heilig-Kreuz-Kirche/ Zossener Straße
3 p.m. Counterprotest spdxhain, Mehringdamm/Yorckstr.
Current information also on Twitter Hashtags #b0412