Campaign weeks "Zusammen gegen Rassismus in Wedding & Moabit"
Since 2017, local associations, organizations and initiatives, which have joined together in 2019 to form an alliance with currently 27 member organizations, have been celebrating the International Weeks against Racism under the slogan "Zusammen gegen Rassismus Wedding & Moabit". In many events, city walks, online discussions and workshops, the alliance will again this year set a strong signal against racism and discrimination in the district and beyond.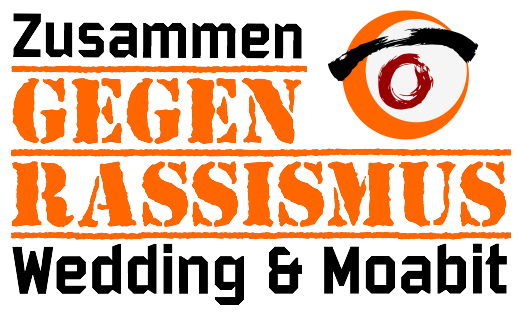 The opening event "Rassismus ist Fakt!" with, among others, Tarik Tesfu and Yasmin Poesy will be broadcast live from City Kino Wedding together with our partners of Centre Français de Berlin on March 13 from 17:00. 
Online-campaign #ZUSAMMENGEGENRASSISMUS
On the International Day against Racism itself, the Alliance is once again calling to join an online campaign. Last year, all prepared events and actions of the alliance had to be cancelled due to the pandemic. Inspiration for participation can be found in the impressive documentation of the 2020 online campaign.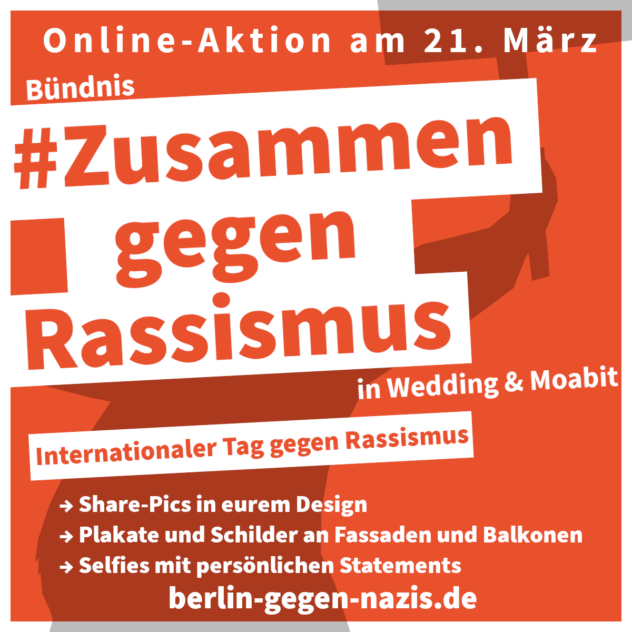 On the eve of the International Day against Racism, March 20, 2021, a broad alliance of initiatives, residents and parties is calling to join their rally in Berlin Rudow under the slogan Zusammen gegen Rassismus – eine Menschenkette für 100% Menschenwürde. Additional info regarding this rally and the campaigns and positioning on March 20 and 21 can be found in a separate post.
Pankow against Racism
In the previous years, various actors in Pankow have been involved in the International Weeks against Racism. This year, for the first time, a joint network of civil society, administration and the district libraries has joined forces. Under the slogan "Pankow against Racism", numerous events and campaigns will take place in on- and offline formats. 
The complete program is available on the campaign website.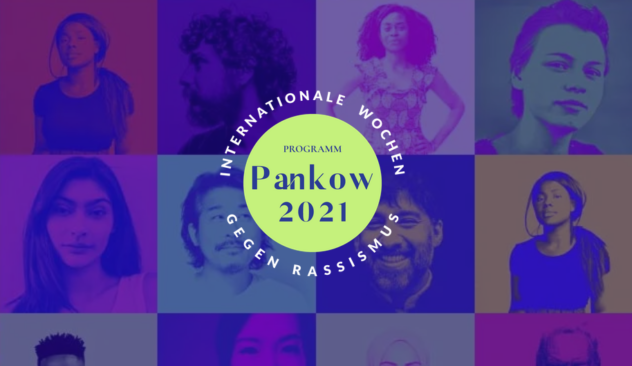 It also provides detailed insight into the civil society structures of the district and enables committed people to network.
Charlottenburg-Wilmersdorf against Racism
Last year, the initiative group "Initiativkreis Aktionswochen gegen Rassismus" was founded in Charlottenburg-Wilmersdorf and issued a shared statement on their aims:
We decidedly position ourselves against racist, nationalist, anti-Semitic or other inhuman statements and against actors who take these ideologies as the core of their actions. These ideologies are a threat to democracy and endanger the equal participation of all people in social and political life.

Initiativkreis Aktionswochen gegen Rassismus Carlottenburg-Wilmersdorf
The group put together a diverse program for the International Weeks against Racism. The kick-off event on songwriting as anti-racist practice will be livestreamed on March 15. In addition to a workshop on right-wing extremist symbols by the initiative Berlin Register, the Initiativkreis is also calling for people to take a stance online on March 21 with banners and posters in public spaces and online using the hashtag #cwagagainstracism. The entire program is available here.
Further events in Berlin
The alliance Hohenschönhausen gegen Rassismus is organizing many exciting events this year. Those interested are invited to take a walk slong the Lichtenberg Register through the neighborhood on March 25 and take a close rlook at where right-wing extremism, racism and discrimination take place. At Kieztreff Undine there will be a citizens' dialogue "For a solidary coexistence from a racism-critical perspective". Theinitiative Bunter Wind für Lichtenberg collects statements and positions of residents and committed people and publishes them online and via social media. The entire program of the International Weeks against Racism in Hohenschönhausen and Lichtenberg is available via the Instagram channel of the Alliance Hohenschönhausen against Racism.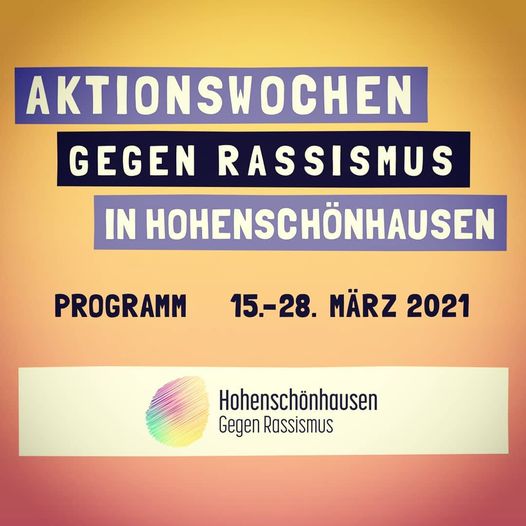 The Center for Democracy in Treptow-Köpenick is organizing an online discussion on racism in the cultural scene. Detailed information can be found here.
In the form of video-statements, actors from Spandau position themselves. Under the slogan "Solidarität.Grenzenlos." the International Weeks against Racism will be launched on March 15 at 12:30 in front of Rathaus Spandau. 
An event on artists tackling the issue of racism will be live broadcast online on March 16 from  Friedrichshain-Kreuzberg,. On March 19, a vigil in memory of the victims of racist violence will take place at 12:00 at Frankfurter Tor. Details on both events can be found here. Additionally, the group Friedrichshain-Kreuzberg Register intends to broadcast the first episode of their new podcast, "Was zu melden," on March 24 at 12:00 via on Freies Radio, UKW 88,4 Berlin.
This article may be expanded to include further major events or programs in Berlin's districts. Individual event announcements will also be published via our event calendar.
In addition, all events taking place throughout Germany can be viewed via the foundation's website for the International Weeks Against Racism, Stiftung für die internationalen Wochen gegen Rassismus. An overview of all events in Berlin can be found here with the corresponding location information.
Background information about the International Day against Racism
In 1966, the United Nations proclaimed March 21 as the "International Day to Overcome Racial Discrimination". Since 1979, the United Nations has invited all its member states to organize annual weeks of action in solidarity with opponents and victims of racism.

This year, the International Weeks against Racism will be celebrated for the 25th time in Germany under the slogan "Show your face––raise your voice". More background information can be found on the website of the Foundation for the International Weeks against Racism.
For news and updates about the campaign weeks, we use the following twitter hash tags: #noracism, #ITGR, and #ITGR2020.