Counter protests
As the announced conspiracy ideological demonstration is planned to pass the Holocaust Memorial directly, there will be a protective rally, as has been the case on other occasions this past year. Omas gegen Rechts Berlin will be present there, supported by Geradedenken and antiverschwurbelte Aktion collectives on Ebertstraße, directly in front of the memorial.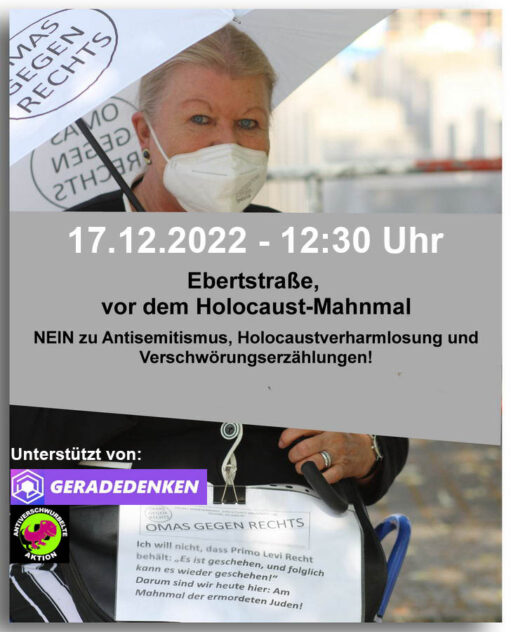 The counter protests are organized by the three initiatives, who have taken to the streets against conspiracy ideological gatherings for the past two and a half years:
Omas gegen Rechts Berlin have been protesting non-stop against conspiracy ideological gatherings since 2020 and have co-organized many crucial protests. The leftist collective Geradedenken.kollektiv has been hosting protest events and raves since the fall of 2020, oftentimes taking place right in the middle of large conspiracy ideological gatherings. The reptiloid counter protests are organized by antiverschwurbelte aktion collective. This network emerged from the first counter protest alliance #reclaimrosaluxemburgplatz in spring 2020, and has since organized diverse, often satirical counter protests in Berlin, but also nationwide.
Background information regarding December 17, 2022
An association from the conspiracy-ideological spectrum has been mobilizing supporters using different slogans, among them "Deutschland steht auf", to join their "day of self-determination" in the government district. This mobilization of different groups and individuals, mainly from Western Germany, led to public opposition from a few Berlin-based groups from the same spectrum in early December. These groups, such as "Berlin steht auf/Freie Berliner" and "Autokorso Berlin", apparently critique the mobilization without specific organizational involvement of local actors. In addition, the solidarity statements expected on December 17, seem to cause controversy, with the founder of "Querdenken" currently imprisoned, seem to cause controversy. Other Berlin groups, such as the "Freedom Parade" or "KDW", however, have been mobilizing for participation since December.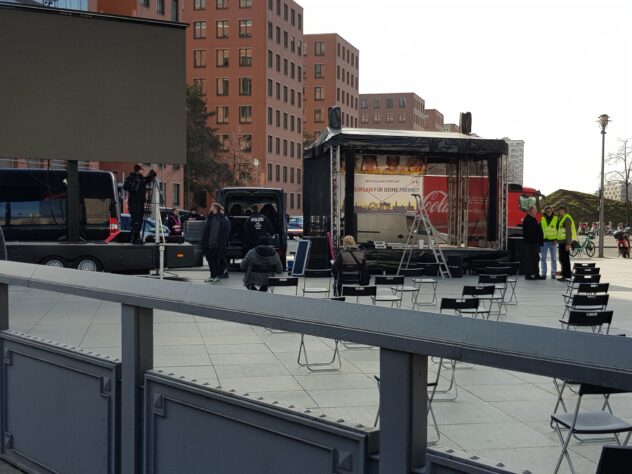 Under that same slogan, "Deutschland steht auf", a technically very professionally equipped rally with a few hundred supporters took place on Potsdamer Platz in Berlin as early as March 18, 2022. For long stretches of time, this rally resembled an open-air church service, which led to an early leave of many participants, who joined another rally on Straße des 17. Juni. On the way to this rally, large groups passed the Holocaust Memorial and felt provoked by the protective rally of Omas gegen Rechts Berlin.
Overview of conspiracy ideological mobilizations to the government district in 2022
In addition to the weekly rallies on Mondays, "Montagsdemonstrationen", there were attempts to hold one or two larger demonstrations each month on weekends, as well as countless small-scale events in Berlin. Furthermore, there was also a regular format of nationwide mobilizations to the government quarter in 2022. These mobilizations were repeatedly scheduled for weekdays on the occasion of parliamentary deliberations at the Bundestag. The management was partly the responsibility of Berlin-based groups, and partly of groups from the conspiracy ideology spectrum, or from supporters from the Reichsbürger milieu who traveled from other parts of Germany. Depending on the background of participants, there were usually also disputes among the groupings, which were often carried out publicly. This happened in the run-up, during, or after the campaign days, which would usually draw a crowd way below the expectations of the organizers.
The grouping "Von Mensch zu Mensch Aktion", which was actively involved in several mobilization campaigns in 2022, has currently withdrawn from their position in protest organization. After the only mobilization with several thousand participants (about 4,000 people) on the second anniversary of the first "Querdenken" demonstration in Berlin on August 1, the demonstration activities of Berlin groups such as "Freedom Parade", "Die Basis Berlin" or "KDW" have also steadily declined. Last attempts of a broader Berlin-wide mobilization failed on September 30, and October 1, 2022.
We recommend the following reports for a detailed overview of the respective nation wide mobilization campaigns to rallies in the government district:
First attempt (January 26 , 2022)
The most recent assessment of gatherings from the conspiracy-ideological spectrum by Mobilen Beratung gegen Rechtsextremismus Berlin – MBR of August hier, states.:
Even if the current mobilization campaigns are far less successful compared to the large gatherings of the first pandemic year, an anti-democratic base potential has become visible, and remains likely to be reactivated . The Corona protests have shown how quickly and to what extent a social resonance space for conspiracy-ideological, anti-Semitic and anti-democratic positions can expand once purposeful actors exploit situations of social crisis for propaganda purposes. A similar damage to democratic culture is to be feared in comparable circumstances in the future –if democratic and progressive forces do not exhibit their own ability to act, campaign, and mobilize.


MBR Berlin, August 2, 2022
Counter protests in the government district in 2022
Photos: Berlin gegen Nazis, March 18, 2022, Holocaust-Mahnmal & Pariser Platz
There were also counter-protests against the mobilizations to the government district, mostly as protective rallies for the Holocaust Memorial or as a symbolic gesture of opposition at the Brandenburg Gate or at Platz der Republik. On March 18, 2022, there was also a broad alliance rally of many local initiatives, whose counter-protest focus was otherwise the "Montagsdemonstrationen" in their respective districts.
Routes and protest event locations, 17.12.2022
(as of December 14, 2022 – all information subject to change)
Please note: The information provided here by Berlin gegen Nazis does not claim comprehensiveness. It is based on the public assembly database of the state of Berlin, as well as additional information of our own research. The information on assemblies may differ from the assembly database, as Berlin gegen Nazis often provides more up-to-date information, or as more specific information is not displayed in the assembly database. All information listed here is subject to change. We keep our information updated as needed.
12:30, Holocaust-Mahnmal, Ebertstr. – counter protest event by Omas gegen Rechts Berlin supported by Geradedenken e.V and antiverschwurbelte aktion
13:00 – 19:00, Platz des 18. März, demontration under the slogan "Friedenskundgebung mit Aufzug gegen alle Diktatoren", registered with 5.000 participants
Route: Platz des 18. März – Ebertstr. – Potsdamer Platz – Potsdamer Str. – Bülowstr. – Nollendorfplatz – Kleiststr. – Wittenbergplatz – Tauentzienstr. – Kurfürstendamm – Joachimsthaler Str. – Hardenbergstr. – Budapester Str. – Stülerstr. – Hofjägerallee – Großer Stern – Straße des 17. Juni – Platz des 18. März
Please note: This registration is advertised as "day of self-determination " via Telegram-Accounts from the conspiracy ideological spectrum
16:00 – 21:00, event under the slogan"Demonstration für Redefreiheit und Pressefreiheit Freiheit für politische Gefangene", registered with 1,000 participants by "Partei der Vernunft"
11:00 – 18:00 Uhr conspiracy ideological motorcade from Lichtenberg to Marzahn-Hellersdorf announced by "Autokorso Berlin", with 60 registered participants
Route: Bahnhof Lichtenberg, Weitlingstr., Lückstr., Sewanstr., Am Tierpark., Treskowallee, Dönhoffstr. (ZK1), Treskowallee, An der Wuhlheide, Fontanestr., Griechische Allee, Roedernstr., Griechische Allee, Kottmeierstr., Rathenaustr., Keplerstr., Waldowplatz, Scharnwebe- rstr., Steffelbauerstr., Ostendstr., Weiskopfstr. (ZK2 Höhe Parkeisenbahn), Weiskopfstr., An der Wuhlheide, Lindenstr., Bahnhofstr., Parrisiusstr., Borgmannstr., Elcknerplatz (ZK 3), Bahnhofstr., Mahlsdorfer Str., Gehsener Str., Semliner Str., Kleinschewskystr., Güldenauer Weg, Unter den Birken, Mahlsdorfer Str., Kohlisstr., Attlinghausenweg, Seestr., Mechthildstr., Bergedorfer Str. (ZK 4), Bergedorfer Str., Hultschiner Damm, Schrobsdorffstr., PaulWegener-Str., Hultschiner Damm, Eichenhofweg, Blausternweg, Goldregen- str., Hultschiner Damm, Müllerstr., Wolfsberger Str., Rahnsdorfer Str., Hultschiner Damm, Hönower Str. (ZK5, Höhe S-Bhf. Mahlsdorf), Hönower Str., Jacques-Offenbach-Platz, Ridbacher Str., Briesener Weg, Hönower Str., Riesaer Str., Louis-Lewin-Str./Böhlener- Str. (ZK6), EP: Böhlener Str. (Höhe u-Bhf. Hönow
11: 00 – 22:00 rally by "Reichsbürger" grouping and "staatenlos Info", Platz der Republik
15:00 – 17:00 weekly rally by "Reichsbürger" grouping, Pariser Platz
Updates on twitter, using hashtag #b1712
Photos: Berlin gegen Nazis