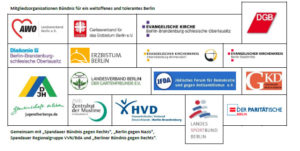 Berliner Bündnis für ein weltoffenes und tolerantes Berlin, a joint initiative of churches, trade unions, charities, the Berlin association of amateur sports clubs, as well as further organizations have registered a gathering at 14:00 at Washingtonplatz. Speakers, music, and loud creative protest within earshot of the right-wing extremist demonstration are scheduled.
The call of the initiative states:
… we are united to make a mark against intolerance, and in support of open-mindedness. Our goals are solidarity and help in public space, on the streets, in the classrooms, in offices, and churches, on the playing field, and in stores and shops.
Berlin gegen Nazis invites everybody to join their hands-on activity. After the immense success in Spandau, once again, a workshop will be set up where creative and colorful posters and banners can be designed and put together under the slogan "Buchstaben & Plakat Choreografie gegen Neonazis". Bring your own ideas, let's make a mark together!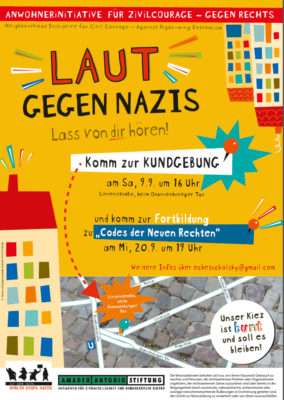 The neighborhood initiative Anwohnerinitiative für Zivilcourage – Gegen Rechts of Rosenthaler Vorstadt and Spandauer Vorstadt will host an event again in their neighborhood, on location at a possible crossing of the right-wing extremist's demonstration route. They call to join them at Oranienburger Straße/Linienstraße at 16:00.
After two "merkel muss weg"-demonstrations have passed through their neighborhood, the initiative formed this past spring and managed to plan and host three counter-protest events on July 1, comprising of a variegated program (see our documentation here). The neighbors are now taking a stance again, no matter if the right-wing extremists are actually going to march through their neighborhood. Considering the short notice of the official announcements of the demonstration routes, which are typically known only about four days prior to the event, this is an immense accomplishment. The initiative furthermore offers workshops: for example on September 20, on codes of the contemporary right-wing scene. The workshop is offered in cooperation with Mobilen Beratung gegen Rechtsextremismus Berlin (MBR).
The current call of the neighborhood initiative states:
Politics is not only implemented top-down, but is decided upon also here, in our neighborhood, by us. We invite you to join the discussion between local politicians, cultural workers, and entrepreneurs, or, to put it more simply, the discussion between the citizens in our neighborhood. We are a diverse initiative of citizens living and working in our Kiez. We are non-party, non-denominational, independent – but united in our engagement against xenophobia. Each of us knows something, has some skill, and is able to put in a little time occasionally.
The Berliner Bündnis gegen Rechts, a federation of associations and leftist groups as well as antifascist groups also calls for a counter-protest with an event at Potsdamer Platz from 4 pm.
Mobile Beratung gegen Rechtsextremismus Berlin (MBR) assesses the situation of the "Merkel muss weg" demonstration of September 9 as follows:
On the 9th of September, the right-wing march will also have to be run by several hundred participants under the motto "Merkel muss weg"
Regarding the spectrum of followers, the participants come from the same background as in the past six demonstrations:
"The participants which are expected to join on Saturday, are likely to come from the same background as before; right-wing extremists organized in comradeships, NPD, the party "III. Weg", the "Identitären" and "Reichsbürger" movements, right-wing extremist and hooligans of the football scene, members of "Patriotische Plattform", AfD, as well as further sub groups and refugee-phobic initiatives. The potential to act violently will remain high."
Source of above quote: Assessment of Extreme Right Demo on 4th March
Action map right-wing extremist demonstration "Merkel muss weg", September 9, 2017, Berlin-Mitte (as of September 7, 2017, content subject to change)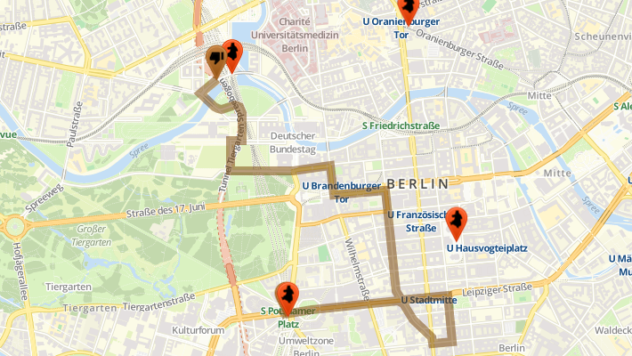 View the map online via Smartphone-App "Gegen Nazis" ,with optional service of display of your current location.
Routes and events
14:00: event with speakers Berliner Bündnis für ein weltoffenes und tolerantes Berlin, Washingtonplatz (Rahel-Hirsch-Straße/Hugo-Preuß-Brücke)
15:00: starting point of the right-wing extremist demonstration "Merkel muss weg" of the initiative Wir für Deutschland (WfD), Rahel-Hirsch-Straße (near Washingtonplatz)
16:00: estimated start of right-wing extremist demonstration "Merkel muss weg" of the initiative Wir für Deutschland (WfD) from Washingtonplatz. Demonstration route: Rahel-Hirsch-Straße – Willy-Brandt-Straße – Paul-Löbe-Allee – Heinrich-von-Gagern-Straße – Scheidemannstraße – Dorotheenstraße – Wilhelmstraße – Unter den Linden – Glinkastraße – Leipziger Straße –  Charlottenstraße – Zimmerstraße – Checkpoint Charlie – Friedrichstraße – Mauerstraße –Leipziger Straße – Postdamer Platz
16.00: event with speakers Anwohnerinitiative für Zivilcourage – Gegen Rechts, Oranienburger Straße/Linienstraße
16.00: event with speakers Berliner Bündnis gegen Rechts, Postdamer Platz
12.00 – 21.00 Freedom 4.0 Gendarmenmarkt
Twitter hash tag for live information on September 09, 2017: #b0909
We keep you updated via the following channels: "Gegen Nazis"-Smartphone-App (free download via Google Play- and Apple App-Store), Twitter and Facebook