The movement "Die Identitären" have mobilized a europe-wide campaign for their march on June 17, which is meant to be their most important event this year. In mid-May, BZ reported in an article the marching route to lead from Potsdamer Platz to Gendarmenmarkt. As of now, the route will lead from the station Gesundbrunnen to the central station. For the organizers of the counter protests, this change of location is a first success.
The following counter protests are announced:
Artists call to join their "glamorous demo" against the right-wing extremist gathering of "Die Identitären". The happening against hatred will take place under the slogan "Vorhang auf, Grenzen auf: Bühne frei! Die Vielen" and bring all participants to shine bright against right-wing extremism. The event starts at the building Alte Münze (Molkenmarkt 2) to go towards Invalidenstraße at the right-wing extremist marching route via Hackescher Markt. The demonstration is meant to be a participatory event, Die Vielen and Berlin gegen Nazis calls all Berliners to come and shine, bring along emergency or space blankets, mirrors, and any other flashy items.
The committee Berliner Bündnis gegen Rechts, a joint project of associations, unions, as well as left and anti-Fascist groups respectively, calls to join their demonstration starting at 12:00  at Leopoldplatz towards Brunnenviertel near the right-wing estremists gathering point. A blockade of the right-wing extremist's march route has been announced. On the subject, the committee stated the following in a recent press release:
The 'Identitären's slogan for their march is an insult to human rights", says Aaron Bruckmiller, BBgR's spokesperson. "Only a few weeks ago, activists of the 'Identitären' attempted to hinder a rescue boat from departure to help refugees in distress. This symbolic act clearly shows the reasoning behind their ideology: racial nationalism rooted in racism, exclusion, and hatred.
map of events for the march of the "Identitären" movement, June 17, 2017, Berlin-Wedding/Mitte (subject to change)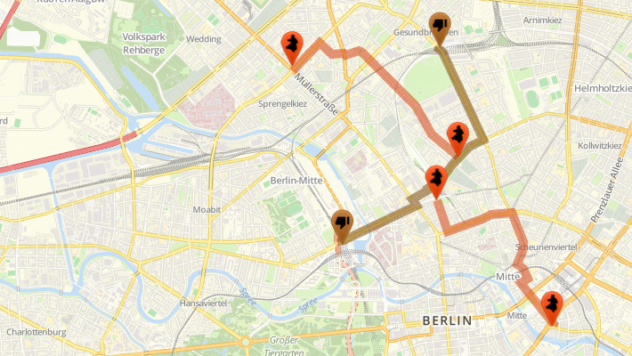 view on mobile device, including your current location (on request), via Smartphone-App "Gegen Nazis".
Routes:
starting point of the demonstration of "Die Identitären" at 2 pm: Gesundbrunnen – Brunnenstraße – Bernauer Straße – Julie Wolfthorn Straße – Zinnowitzer Straße – Chausseestraße – Invalidenstraße -Hauptbahnhof
route of the counter demonstration of Berliner Bündnis gegen Rechts (BBgR) at 12 am : Leopoldplatz – Schulstraße  – Maxstraße – Schererstraße – Wiesenstraße. – Hussitenstraße/Bernauer Straße
starting point "glamorous demonstration" (Die Vielen) at 2 pm : Alten Münze (Molkenmarkt 2) – Spandauer Straße – Anna-Louisa-Karsch-Straße – An der Spandauer Brücke – Hackescher Markt – Rosenthaler Straße – Torstraße – Novalisstraße – Eichendorffstraße /Ecke Invalidenstraße
On their website, Mobile Beratung gegen Rechtsextremismus Berlin (MBR) published an updated assessment on the march of the "Identitären", which contains the following excerpt:
Already in the past year, about 130 supporters of the "Identitären" from several German Federal States marched through Berlin on occasion of the anniversary of the People's Uprising in East Germany of June 17, 1953. The upcoming event this year is also aimed at supporters and followers from further European countries and is thus likely to draw a larger crowd than in 2016. The promotional media announced "many European speakers" to take part and Europe is also the only subject mentioned in their call, which is distributed by PEGIDA and its offshoots via social media, where also versions of the call in English and Italian were made public. A comparable event took place in Vienna in June, 2016, with about 1.000 participants, according to the police. This is the number of people stated in the registration of the current demonstration as well. However, it can be expected that the number will be considerable lower, MBR estimates that about four to seven hundred people will take part.
Regarding the question who is behind the "Identitären" movement, MBR published the following in-depth analysis preceding the demonstration of June 2016.
Wee keep you updated on news and information via our "Gegen Nazis"-Smartphone-App (free of charge at Google Play- and Apple App-Store), Twitter and Facebook
Twitter hashtags for current information on June 17 are: #noIB and #b1706