Human chain against racism in Alt-Rudow – 19.03./11:00
For the second time this year on the Saturday leading up to the International Day against Racism, the human chain against racism initiated by the alliance "Rudow empört sich" will take place. On March 19 at 11:00, people will gather in the area of Alt-Rudow between Neudecker Weg/Groß-Ziethener Chaussee and Köpenicker Str. to set a bold sign against racism, for human rights, and against the right-wing extremist activities in the district and beyond. As in the past year, where many people came together to express the message #ZUSAMMENGEGENRASSISMUS together, while keeping physical with distance. The call states:
The assassinations of Walter Lübcke, in Halle, and in Hanau attacked the whole of our society. It became clear how fast racist sentiment and agitation can turn into acts of violence. Therefore, we are all called upon to oppose racism and right-wing terror. Trade unions, companies, and professional associations, sports and other clubs, schools, churches and religious associations are called upon to stand up for our democracy.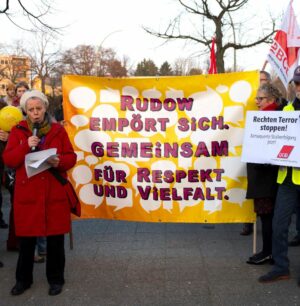 Unterstützt wird der Aufruf von: Alte Dorfschule Rudow e.V. + Aufstehen gegen Rassismus Neukölln + BASTA Britz + Bündnis Neukölln + DGB Neukölln + Evangelische Dreieinigkeitsgemeinde + Evangelische Kirchengemeinde Rudow + Evangelischer Kirchenkreis Neukölln + Generalsuperintendentin Ulrike Trautwein, Sprengel Berlin der EKBO + Galerie Olga Benario + Grüne Neukölln + Hufeisern gegen rechts + Initiative zur Aufklärung des Mordes an Burak Bektaş + Institut für Islamische Information I-ISIN e.V. + Die LINKE Neukölln + Falken Neukölln + SPD Neukölln + Netzwerk Frauen in Neukölln + Neuköllner Buchläden gegen Rechtspopulismus und Rassismus + Omas gegen rechts.Berlin + Ver.di Bezirk Berlin + VVN-VdA Neukölln
Online campaign #ZusammengegenRassismus on 21.03.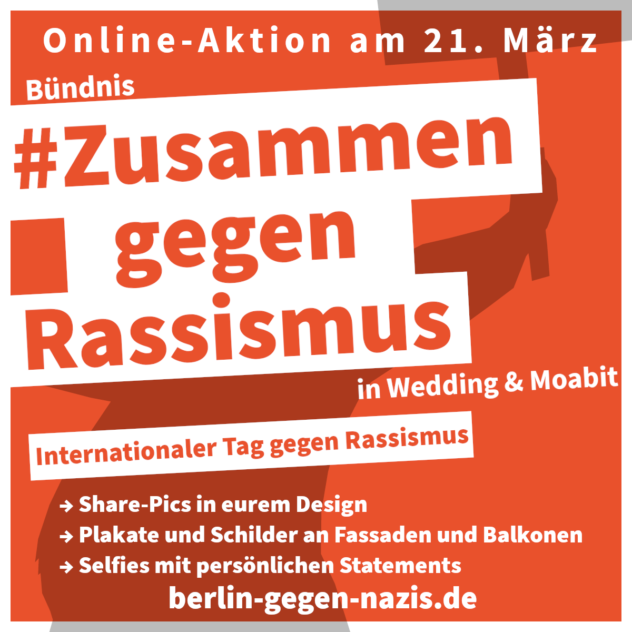 On occasion of the International Day against Racism, the alliance is calling for the third time to join their online campaign. As in 2020, all scheduled events and campaigns of the alliance had to be cancelled due to the pandemic, the online campaign has proven itself as a widely visible signal also in the past year. This year, too, committed civil society is called upon to show their faces online with creative and impressive positioning. Inspiration for participation can be found for example in the documentation of the 2020 online campaign.
Call for the online campaign:
Auf ein Wort! – campaign day in front of Museum Lichtenberg on March 21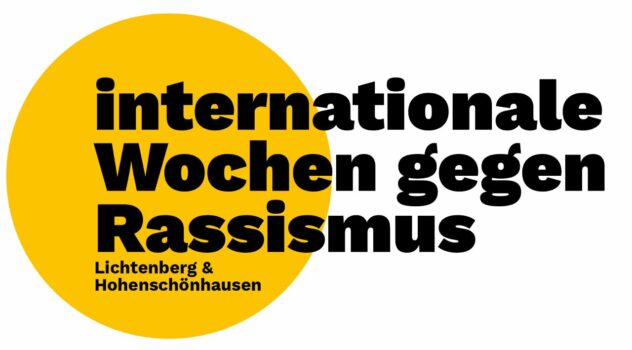 On the International Day against Racism, Museum Lichtenberg invites you to a reading in front of the museum in Türrschmidtstraße under the slogan "Auf ein Wort!". With poems, short texts and personal statements, people from Lichtenberg explain why they care about the commitment to human rights and against racism. Committed people are invited to submit their own statements to Museum Lichtenberg in advance. These and other texts will then be read on March 21 from 16:00 on the museum's court. Details here.
Our overview article on the Campaign Weeks against Racism in March 2022 provides links to the diverse programs of the district-organized initiatives.
Twitter hash tags #ZUSAMMENGEGENRASSISMUS #ITGR2021 #noracism