date of informations 25.08.2020
In Berlin, routes of right-wing extremist marches are published only a few days in advance of the respective date. For the march announced by "der III. Weg", it is as of yet only confirmed that the registration can be expected in one of the three East Berlin districts of Lichtenberg, Marzahn-Hellersdorf or Treptow-Köpenick. Since August 16, the neo-Nazis themselves have been promoting the Lichtenberg district of Hohenschönhausen on their website as well as in flyer campaigns in various districts of Berlin. However, that the neo-Nazi march on October 3 will actually take place is not entirely certain.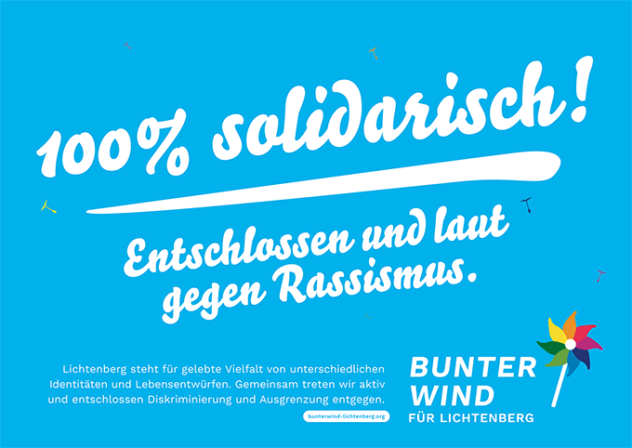 Many initiatives and alliances are already in preparation for counter protests against this march. Berliners will not leave Lichtenberg alone with these neo-Nazis.
Up-to-date information on the counter protes can also be found in our Facebook event for October 3.
Assessment of the neo-Nazi party "Der III.Weg"
Mobile Beratung gegen Rechtsextremismus Berlin – MBR characterizes the party "der III. Weg" as follows:
"Der III. Weg" is a right-wing extremist micro-party founded in 2013 by former NPD functionaries and activists of forbidden comradeships. In terms of content, it has a decidedly neo-Nazi profile. Its "10-Punkte Programm", which is based on the NSDAP's party program, clarifies in its formulation the party's self-conception as a radical, "national-revolutionary" alternative to the other organizational approaches on the scene, and has set itself the goal of "creating a German socialism, far from exploitative capitalism as well as egalitarian communism". The main focus of his activities is on East and South Germany. The party is considered a melting pot for supporters of banned right-wing extremist groups from the militant neo-Nazi scene.

The party sees itself as a cadre party which, despite participation in elections, focuses on the "fight for the street" and accepts members only after a selection process. It is divided into various "territorial associations" to which several federal states belong.
Further announced events from right-wing extremist and open right-wing groups, as well as from the Reichbürger Spektrum, to take place on October 3 in Berlin (as of August 11, 2020)
11:00 – Reichsbürgerkundgebung , Platz der Republik von staatenlos
12:30 – The right-wing extremist group "Patriotic Opposition Europe" registered one of its small regular marches in the government district
14:00 – In addition, there is a registration of the right-wing open grouping "Corona Rebellen" from Alexanderplatz to the government district. A cooperation with the right-wing extremists "Patriotic Opposition Europe", as on July 4, August 1, and August 29 is very likely.
All information is subject to change, check updates on twitter using the hash tag #b0310