Numerous initiatives and individuals issued a joint call with more than 9,000 signatories to join their nationwide demonstration in Berlin. In many places all over Germany, organizations and individuals fight against discrimination and exclusion. The movement will now take to the streets.
The call states: 
We stand for an open and caring society, in which human rights are indivisible and in which diverse and self-determined ways of life are undeniably respected. We stand against all forms of hatred and discrimination. Together, we decidedly confront anti-Muslim racism, anti-Semitism, anti-Ziganism, antifeminism and LGBTIQ*-phobia.
Alongside further initiatives, the artists' initiative "Die Vielen" calls to join their shining block at the  #unteilbar-Demonstration. The organizers state:
WEAR GOLD!

Let's be strong together and make some noise for an open and free society and social justice. We are joint in our rejection of discrimination, impoverishment, racism, sexism, deprivation of rights, and nationalism. We are many.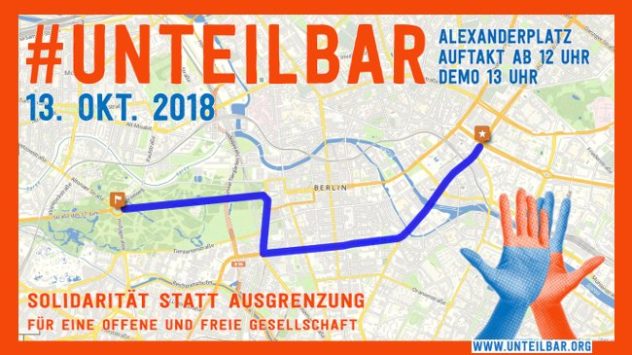 For the joint commute to the demonstration, there are nationwide meeting points and contacts.
Current program of #unteilbar for Saturday, 13.10.2018 (Source: https://www.unteilbar.org/demonstration/programm/)
Moderation: Isabell Senff und Farhad Dilmaghani
Music and cultural program:
Christiane Rösinger
DJ Craft
Matondo
Frank Spilker (Die Sterne)
Speeches:
David Begrich, Miteinander e.V.
Heiner Busch, Komitee für Grundrechte und Demokratie / Bürgerrechte & Polizei/CILIP
Markus Beeko, Generalsekretär der deutschen Sektion von Amnesty International
Ulrich Schneider, Deutscher Paritätischer Wohlfahrtsverband – Gesamtverband e.V.
Anja Nordmann, Deutscher Frauenrat
Stefan Körzell, DGB-Bundesvorstand + ggf. auch Ryanair-Streikende
Stefan Conen, Vorsitzender der Vereinigung Berliner Strafverteidiger
Karen Taylor, Each One Teach One (EOTO) e.V., Initiative Schwarze Menschen in
Deutschland Bund e.V.
Jutta Hartmann, Deutscher Mieterbund e.V.
Aiman Mazyek, Zentralrat der Muslime in Deutschland e.V. (ZMD)
Lala Süsskind, Jüdisches Forum für Demokratie und gegen Antisemitismus e.V. (JFDA)
Ulrike Trautwein, Generalsuperintendentin für den Sprengel Berlin der Evangelischen Kirche Berlin-Brandenburg-schlesische Oberlausitz (EKBO)
Hamze Bytyci, Roma Biennale
Kava Spartak, Berliner Bündnis gegen Abschiebung nach Afghanistan
Ayşe Demir, Türkischer Bund in Berlin-Brandenburg (TBB)
Interventionistische Linke (iL)
Alliance loudspeaker vans:
Eisbären Berlin
VVN-BdA
IG Metall (Siemens)
FAU
Initiative Familienleben für Alle
Aktion Standesamt 2018
Afrotak
Closing rally (from about 4 pm to about 9 pm at Siegessäule)
Moderation: Thelma Buabeng, Margarita Tsomou und Esra Karakaya
Music and cultural program:
The Busters
Shekib Mossadegh
Mono und Nikitaman
Romano
Konstantin Wecker
Puschban & Matondo
Isabelle Faust & Christian Tetzlaff
Jilet Ayse
Daniel Kahn
Herbert Grönemeyer
Tanasgol Sabbagh
Dota Kehr
Tarik Tesfu
Dirk von Lowtzow (Tocotronic) & Joy Denalane
Bernadette La Hengst
Mal Élevé & Ocean's 4 Band
Speeches:
Jutta Weduwen, Geschäftsführerin Aktion Sühnezeichen Friedensdienste e.V., für das Bündnis #unteilbar
Ferda Ataman, Publizistin
Kübra Gümüşay, Autorin und Aktivistin
Hans-Jürgen Urban, Geschäftsführendes Vorstandsmitglied der IG Metall
Wenzel Michalski, Human Rights Watch
Jugendliche ohne Grenzen
Aktion Standesamt 2018
Dest-dan
Kotti & Co.
Frauenstreik
We'll Come United
Seebrücke
#ausgehetzt / #noPAG Bayern
Rena Tangens, Digitalcourage e. V.
Sascha Gierke, Einsatzleiter IUVENTA
Günter Burkhardt, Geschäftsführer Pro Asyl
Ramona Lenz, medico International
Priya Basil, Autorin
Christian Specht, Mitglied im Vorstand der Lebenshilfe Berlin
Bizim Kiez
Bündnis für mehr Personal im Krankenhaus
Ryanair-Streikende
Carolin Emcke, Publizistin und Philosophin
Georg Restle, Journalist, Leiter und Moderator des Politmagazins Monitor (ARD)
All info subject to change, follow updates on twitter, hash tag: #unteilbar