According to the assessment of Mobile Beratung gegen Rechtsextremismus Berlin (MBR), the event is unlikely to draw a huge crowd. On the event's facebook page, as of today (May 16, 2017), only 53 people marked their attendance. At prior events in January and November, about 100 people took part respectively. At the first event on September 24, 2016, about 150 supporters of right-wing extremist and refugee-phobic initiatives took part.
The action committee ( Aktionsbündnis #NOBärgida ) scheduled a counter protest event to start from 13:30 at Hardenbergplatz. The slogan of the event being: "Gegen den Rechtsruck – Für eine solidarische Gesellschaft".
Within eyesight from the starting point of the right-wing extremist demonstration, Berliner Landeszentrale für politische Bildung is hosting its event "Demokratiefest" celebrating democracy at Amerika-Haus, from 12:00 until 17:00. The program includes staged events, workshops, films, talks, information booths, as well as events for children.
action map right-wing extremist demonstration May 20, 2017, Berlin City West (as of May 16, 2017)
view the map online via Smartphone-App "Gegen Nazis" ,with optional service of display of your current location.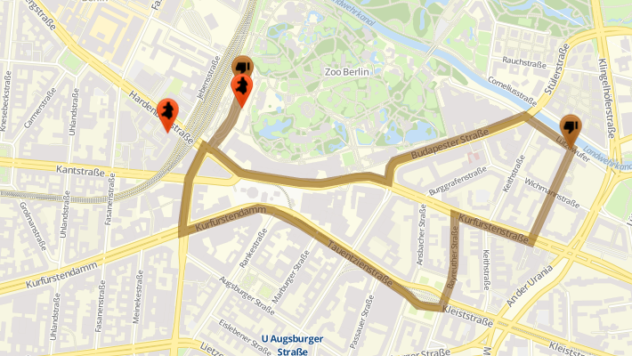 Starting point right-wing demonstration "Hand in Hand": Hardenbergplatz (north side) – Joachimsthaler Straße – Kurfürstendamm – Tauentzienstraße – Wittenbergplatz – Bayreuther Straße – Kurfürstenstraße – Landgrafenstraße – intermediate stop Landgrafenstraße/Lützowufer – Lützowufer – Budapester Straße –  Hardenbergstraße – Hardenbergplatz
All information subject to change, up to date information via twitter, hashtag: #b2005