On October 3, 2019, the right-wing extremist organization "Wir für Deutschland (WfD)" plans, after eleven months, to hold a further rally through Berlin. Following broad protests and little participation for their latest march on November 9, 2018, WfD announced to not organize any further rallies in the future, bringing to a halt their series of rallies since 2016. At the same time, it has been known as of late 2018, that WfD registered an event with the authorities for October 3, 2019. As in the previous year, WfD now registered two events for October 3 under the slogan "Tag der Nation". It is likely that exact marching routes and stating points will only be announced about 48 hours in advance of the event. The rally starting at 14:00 will most likely lead through Mitte. The second announcement for 17:30 is planned to lead through Mitte and Friedrichshain/Kreuzberg. 
Protests in Mitte
The resident's initiave Anwohner_inneninitiative für Zivilcourage – Gegen Rechts with support of Bündnis für ein weltoffenes und tolerantes Berlin andTanzversammlung Rosenthaler is calling to join their event taking place from 13:00 at the corner of Torstraße and Tucholskystraße under the slogan "Den Nazis keine Mitte". The actual location of the event will be announced at short notice once the route of the right-wing extremist rally is known. Many details of the event's program and mobilization events have already been announced, find the flyer here.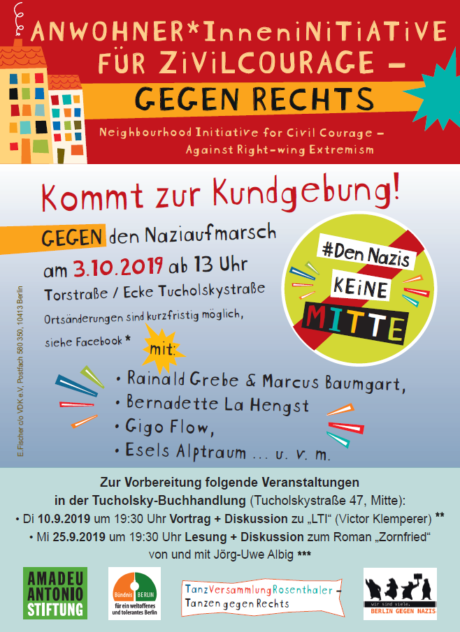 Program of the protest event
speakers to be announced
Cultural and musical program: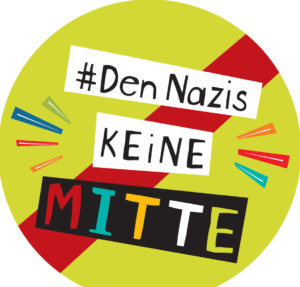 The resident's initiative Anwohnerinneninitiative für Zivilcourage -Gegen Rechts, which has recently been awarded the Band für Mut und Verständigung, founded itself in Spring 2017 following two marches under the slogan "Merkel muss weg" leading through their neighborhood. The initiative hosted three events on July 1, 2017, with a diverse program. As well as on September 9, 2017, and March 3, 2018, the initiative hosted events to protest the rallies by "Wir für Deutschland" in the Spandauer Vorstadt neighborhood. A preliminary peak was the event with 1,500 participants on October 3, 2018, against the first so-called "Tag der Nation" hosted by WfD. The residents stated in their first call of Spring 2017 why they decided to take action against right-wing extremism in their neighborhood:
On March 4, 2017, residents were personally threatened and even spat at by Nazis. We founded ourselves as a resident's initiative as we cannot idly watch right-wing extremist rallies marching through our neighborhood. We visibly and directly engage to foster democracy and a peaceful coexistence in our district. Our Kiez has many colors and that is how it should be. 
Mobile Beratung gegen Rechtsextremismus Berlin (MBR) published an assessment on October 3 and the right-wing extremist organization "Wir für Deutschland (WfD)". It states:
On occasion of German Unity Day on October 3, 2019, right-wing extremists are planning a rally in Berlin. The right-wing extremist organization "Wir für Deuschlnad" has been calling to join their demonstration for the past months taking place at 14:00 under the slogan "2. Tag der Nation". According to the call, the rally is to start at Washingtonplatz, and lead towards Alexanderplatz via Friedrichstraße. As of now (August 15, 2019), further information on the demonstration route has not been confirmed by the authorities, only the registration of an event to take place with 5,000 people in Berlin-Mitte, as well as Friedrichshain-Kreuzberg. 

The announcement of 5,000 participants corresponds to five times the actual participants of the previous year. It is thus unrealistically high. In the previous year, the hosts were able to profit from the nation-wide dynamics of mobilization against refugees, as in Chemitz or Köthen. Currently, the right-wing extremists do not have such support. On the contrary, mobilization to take to the streets seems to be on the decline, as evident in comparable events throughout Germany. 

Apart from the gathering to take place at Washingtonplatz, a second gathering has been registered for October 3, which, as of now, has not been publicly advertised. This event will take place under an almost identical slogan, "Tag der Nation 2.0", and has been registered to take place at 17:30 with about 500 participants, to commence on Alexanderplatz. It is likely that this second registration functions as an alternative route in the case of disturbances by counter protests of the first event. A likely route of the second option will lead though Friedrichshain-Kreuzberg, a district considered to be alternative and leftist, thus likely to be met with a heightened public awareness and hence attractiveness for the right-wing extremist participants. Furthermore, by registering a second event, the right-wing extremists may speculate to weaken counter protests a strategy employed in the previous year. [1]

Taking into account the previous gatherings of WfD, it is likely that supporters on October 3 will come from the same spectrum of people as in the previous year as well as the previous events under the slogan "Merkel muss weg"; these being right-wing extremists organized in comradeships, NPD, the political party "Der III. Weg", the identitarian movement, people supporting the "Reichsbürger" movement, football hooligans, sympathizers and members of AfD, supporters of further right-wing extremist factions, islamophobic and anti-refugee initiatives.
Further in-depth information on "Wir für Deutschland", the announced speakers, and the mobilizing process can be found here. (Source: MBR – Assessment as of August 16, 2019)
Berlin gegen Nazis will update this report with current information, regarding for example preparations of protests in Friedrichshain/Kreuzberg. Use twitter hashtags #b0310 and #nowfd.
A further right-wing extremist event on October 3, 2019
Furthermore, right-wing extremist Nikolai Nerling once again registered an event for October 3, 2019, to take place at Breitscheidtplatz (City-West) from 14:00 under the slogan "Deutsche Kultur in Deutschland". As of now, no counter protest events have been announced. Berlin gegen Nazis will keep you posted on updates.