The call of the neighborhood initiative to their weekly event defending diversity and tolerance under the slogan "Für Vielfalt und Toleranz am Mehringplatz" states:
To clarify that Mehringplatz is no place where racist paroles of hatred can be disseminated without objection, we will from now on host a gathering there each Monday from 07:00 to 08:30 pm. The events will be framed by political debate concerning issues that affect us (such as rent, labor, education, environmental issues). These are all issues tackled insufficiently by politicians and thus in effect enabling the growth of the political right-wing.
Why does the neighborhood initiative host gatherings? 
For more than three years, Pegida has been holding weekly demonstrations in Berlin. The supporters call themselves Bärgida and gather each Monday at 06:30 pm at Berlin's central station for a short rally with speeches, with about 15 to 20 participants as of late. Furthermore, since the beginning of March, the right-wing extremist organization "Wir für Deutschland (WfD)" has been holding their demonstrations under the slogan "Merkel muss weg" marching from Friedrichstraße train station to Potsdamer Platz, with about 20 to 35 participants, among which are racists, Nazi hooligans, and further xenophobic supporters. In the past weeks, WfD has been changing their marching route diverging from the registered path towards Hallesches Tor via Mehringplatz in the district of Kreuzberg, due to the low number of attendants. If less than one hundred people partake, the route to Hallesches Tor is chosen; once the number of participants goes below fifty, people will not march on the street but on the sidewalk. Another possibility is the spontaneous merge of both the Bärgida and WfD events at Hauptbahnhof with a joint ad hoc demonstration.
Map with overview of right-wing extremist demonstrations "Merkel muss weg" & Bärgida, May 28, 2018, Berlin-Mitte / -Kreuzberg (subject to change)
View the map online via our Smartphone-App "Gegen Nazis" ,with optional service of display of your current location.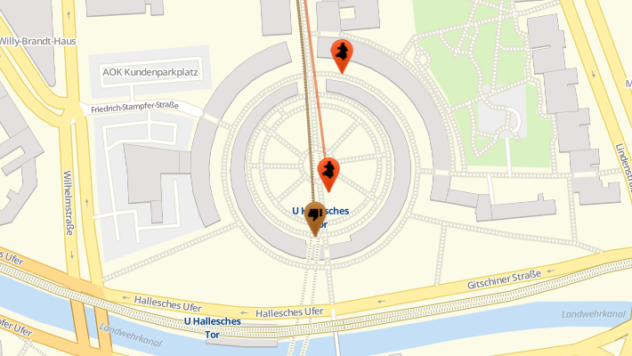 Demonstration of Bärgida, 06:30 pm: Washingtonplatz at Hauptbahnhof
Possible demonstration of committee No Bärgida "Kein Bock auf Nazis in Mitte" starting from 06:30 pm – starting point: Dorothea Schlegel-Platz (S-Bahnhof Friedrichstraße south side) – Georgenstraße – Friedrichstraße – destination: Mehringplatz (U- Bahnhof Hallesches Tor)
Possible demonstration under the slogan "Merkel muss weg" of Wir für Deutschland (WfD) starting from 07:00 pm: Registered route if there are more than 100 participants – starting point: Dorothea Schlegel-Platz (S-Bahnhof Friedrichstraße Südseite) – Georgenstraße – Friedrichstraße – Leipziger Straße – destination: Leipziger Platz
Possible demonstration under the slogan "Merkel muss weg" of Wir für Deutschland starting from 07:00 pm: Registered alternative route if there are less than 100 participants starting point: Dorothea Schlegel-Platz (S-Bahnhof Friedrichstraße Südseite) – Georgenstraße – Friedrichstraße – destination: Mehringplatz (U- Bahnhof Hallesches Tor)
Neighborhood initiative gathering defending diversity and tolerance "Für Vielfalt und Toleranz am Mehringplatz" of Die Globale e.V. from 07:00 pm at Mehringplatz
All information subject to change, updates via twitter, hashtags: #nobärgida #nowfd