The positioning #KEINPLATZFÜRRASSISMUS will thus become widely visible on the city's playing fields. The clubs and the BFV set an impressive sign and have an impact on the clubs themselves and beyond.
The Berlin Football Association updated its joint declaration against racism in spring. The efforts to decisively counter racism, anti-Semitism and discriminatory behavior will be intensified in the future. Consulting for the campaign is provided by Mobile Beratung gegen Rechtsextremismus Berlin – MBR.
In a press release on the subject of racism in football dated June 9, 2020, the Berlin Football Association states:
The BFV sees itself and its member clubs as one big football family where each member is respected and protected. Any racist or discriminatory behaviour has no place on Berlin's football pitches, as it is in stark contrast to the fair play concept of the sport. The BFV does not look away and stands up together with the clubs against racism, anti-Semitism, Islamophobia and discrimination.

(…)

Amongst other things, a banner campaign together with the Berlin associations is planned in order to set an expressive signal against racism, anti-Semitism and Islamophobia, not only in terms of content but also visually. With the help of training courses and a specialist conference, the aim is to raise awareness and develop a package of measures to better protect people and organizations affected by discrimination.
The BFV calls upon the associations to jointly develop the actions within the campaign. Further information can be found here.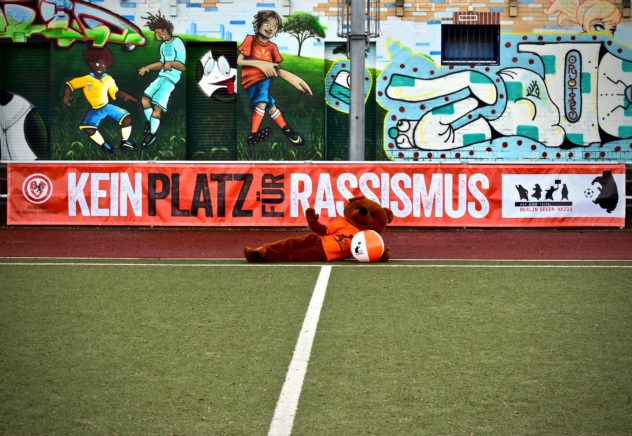 First positioning #UNTEILBAR on June 14, 2020 Berlin-Kreuzberg
On Sunday, June 14, 2020, the first common positioning was enacted within the framework of the bond of solidarity initiated by the Alliance Indivisible. Under the slogan #SoGehtSolidarisch, the Berlin Football Association together with three partner clubs of Berlin gegen Nazis and further clubs from Kreuzberg met at Gneisenaustraße and presented the prototype of the new banner "No space for racism" for the first time in public. BSC Eintracht/Südring, Türkiyemspor Berlin, FSV Hansa 07 and SC Berliner Amateure were also present.
Berlin gegen Nazis is looking forward to future cooperation and many great campaigns.
#KEINPLATZFÜRRASSISMUS
We will keep you up to date.