THANK YOU! – All listed clubs have been visibly positioning themselves against racism and anti-Semitism since the start of the campaign. Some club banners are currently still in production. Soon, these will also be put on the boards. Clubs wishing to join the campaign can register for the next production round at BFV.
Tennis Borussia Berlin , Lichtenrader BC 25, BFC Alemannia 1890, SV Tasmania Berlin, SFC Berlin Friedrichshain, Polar Pinguin, BAK 07 – Berliner Athletik Klub, SV Blau Weiss Berolina Mitte, FSV Hansa 07, Friedrichshagener SV 1912, VFB Fortuna Biesdorf, FSV Berolina Stralau, BSC Eintracht Südring, SG Rotation Prenzlauer Berg, Friedenauer TSC, SV Askania Coepenick, Pfeffersport e.V. , Oranje Berlin, SC Siemensstadt, Hertha BSC Berlin, 1. FC Union Berlin, SCC Berlin – Sportclub Charlottenburg, TUS Makkabi Berlin, SC Minerva 1893, SV Schmöckwitz-Eichwalde, NFC Rot-Weiss, BSV Hürtürkel, FV Wannsee, 1.FC Wacker Lankwitz, SV Süden 09 Berlin, Türkiyemspor Berlin, SV Lichtenberg 47, SSC Teutonia 1899, Spandauer Kickers, 1. FC Wilmersdorf, SG Stern Kaulsdorf, FV Rot Weiss Hellersdorf, THC Franziskaner FC, VSG Rahnsdorf
The campaign kicked off on November 1, 2020 with a joint positioning by Tennis Borussia Berlin, BFV, and BAK 07 – Berliner Athletik Klub. (Documentation here)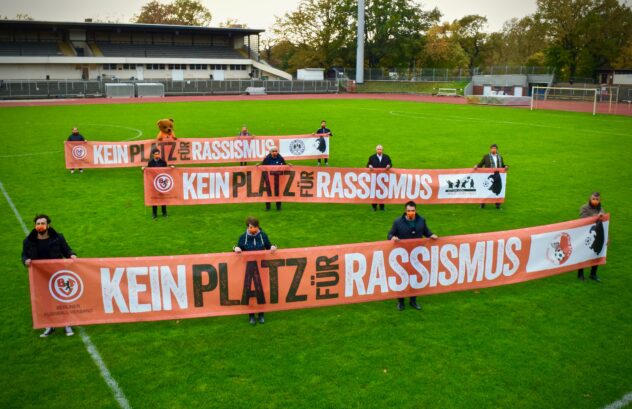 The COVID pandemic slowed down the campaign somewhat. Nevertheless, the first banners were handed over in the winter of 2020, and further clubs positioned themselves. Until early summer, the games in Berlin amateur soccer were halted and thus the banners were not distributed, with two exceptions: On the International Day against Racism on March 21, 2021, SV Tasmania Berlin (including a great interview on experiences of racism in soccer) and Friedenauer TSC positioned themselves.
The BFV published an interim report on the expansion of anti-discrimination work in the association and the #KEINPLATZFÜRRASSISM campaign. Together with the Mobile Counseling Against Right-Wing Extremism Berlin – MBR, workshops for referees on the topics of racism and anti-Semitism started in summer 2021. After the reopening of the amateur leagues in the summer, many more banners were distributed and displayed until the fall. On November 9, 2021, with the first #KEINPLATZFÜRANTISEMITISMUS positioning by FSV Hansa 07, the second motto of the campaign was also displayed. The second campaign motto for positioning against anti-Semitism, which was planned from the beginning, will come into focus in the future.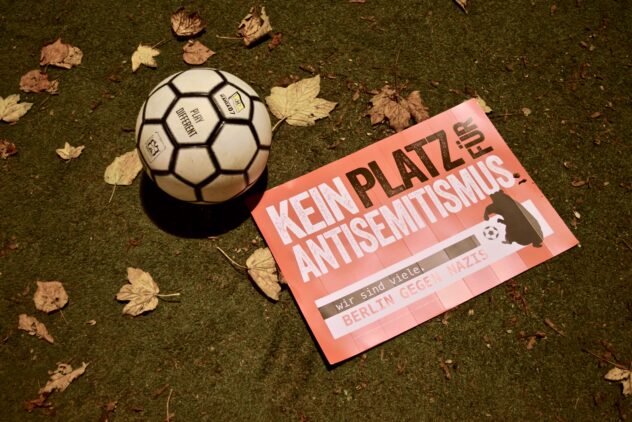 Since the start of the campaign in the beginning of June 2020, BFV has given the clubs the opportunity to participate in the design of further measures within the framework of discussion rounds and workshops. From the outset, the campaign was designed to address the issue in a sustainable manner, and is accompanied by MBR BERLIN in their advisory capacity. MBR Berlin offers free advice to associations in the event of racist, anti-Semitic, as well as right-wing extremist incidents. It provides clubs with preventive support and, together with BFV, also refers clubs and individuals to other specialist projects when necessary. The cooperation is part of the expansion of the BFV's activities in the area of anti-discrimination.
Many associations in Berlin have been working against racism, anti-Semitism and discrimination in general for years. For other associations, dealing with these issues is still uncharted territory. The involvement begins with questions such as: Where does racism begin? What is everyday racism or anti-Muslim racism? Why is it important to distinguish anti-Semitism from racism? In this context, dealing with racism is always also a discussion about strategies on how to counter it. The associations have to develop individual strategies that are suitable for them, and depending on their possibilities and different levels of commitment, they have to take an active stance against racism. What has worked in one association can inspire other associations, but does not have to work just as well there. Anti-racist work in Schöneberg has different challenges than in Marzahn-Hellersdorf. With the campaign of the BFV with BERLIN GEGEN NAZIS as well as the consulting services of MBR Berlin, the clubs have reliable partners and contact persons who support them at eye level in this process.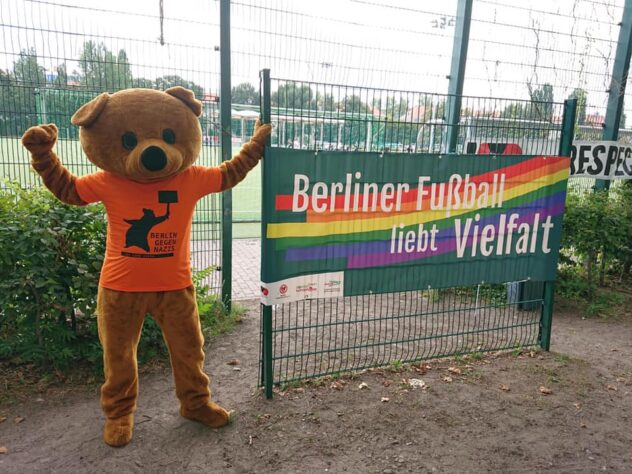 The positioning with the #KEINPLATZFÜRRASSISMUS banners is a low-threshold approach to keep the topic present through permanent display at the sports fields. The visible slogan can convey to those affected by racism on site that help and contact persons can be found in the club, association or at specialized projects such as MBR Berlin. The banners were distributed by BERLIN GEGEN NAZIS, representatives of the BFV, the new BFV anti-discrimination office and representatives of MBR Berlin always used for personal conversations and a first meeting with club representatives. The impression from these conversations increases the importance of the many #KEINPLATZFÜRRASSISMUS positioning. Amateur soccer is time-consuming volunteer work with multiple issues: too few coaches, too few sports fields, especially in 2021 after the reopening of the season, as well as the compliance with multiple hygiene measures. Great organizational effort in volunteer work and yet commitment to diversity and positioning against racism. A lot can be built on this.
In the course of 2021, several clubs, such as BAK 07 – Berliner Atheltik Klub or Tennis Borussia Berlin, which also participate in the campaign, got involved with further activities against racism and anti-Semitism. They also participated in BERLIN GEGEN NAZIS' network campaign #DASWIRDMANJANOCHFRAGENDÜRFEN and set a signal against conspiracy ideologies. The Polar Penguins are working on a mission statement against discrimination for the club. However, much small-scale commitment of many associations still remains invisible to the public. BERLIN GEGEN NAZIS is happy about any and every public positioning and is available for further activities, develops first ideas for campaigns and gives advice for implementation. BERLIN GEGEN NAZIS makes all activities visible for the Berlin city society through high-impact publication. Get in touch!
Chronology of the banner campaign 2020-2021