March 20 – April 1, 2023, Berlin-wide: On occasion of the International Weeks against Racism around the International Day against Racism, numerous events and campaigns will take place in the Berlin districts.
Pankow against Racism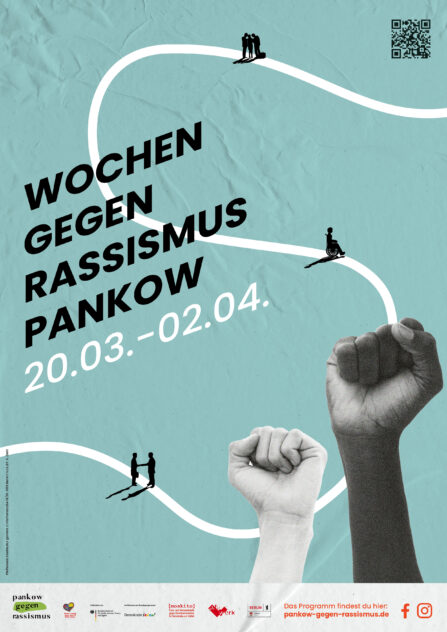 In Pankow, a network of Pankow-based associations, initiatives, libraries, and administration is organizing the campaign weeks against racism in the district for the third year.
As a prelude, on March 16, an interactive market of projects that are critical of racism, will take place where initiatives introduce themselves over snacks and drinks. Afterwards, Pierrot Raschdorf will read from his book "Schwarz. Rot. Wir: Wie Vielfalt uns reicher macht" at the library. The event will be interpreted in sign language.
The network also organizes three central neighborhood events with photo exhibition, discussion couch, and information tables for conversations about racism and how we can defend ourselves against it: On March 18 at Piazza Karow, on March 21 at the market on Greifswalder Straße, and on March 23 at Antonplatz in Weißensee.
The final event will take place on April 1 at Hugenottenplatz in Französisch-Buchholz. Flyers will be distributed under the slogan " Wir reden über Rassismus", to raise awareness against racism.
The complete extensive program of "Pankow gegen Rassismus" can be found on the campaign website.
United against Racism Wedding & Moabit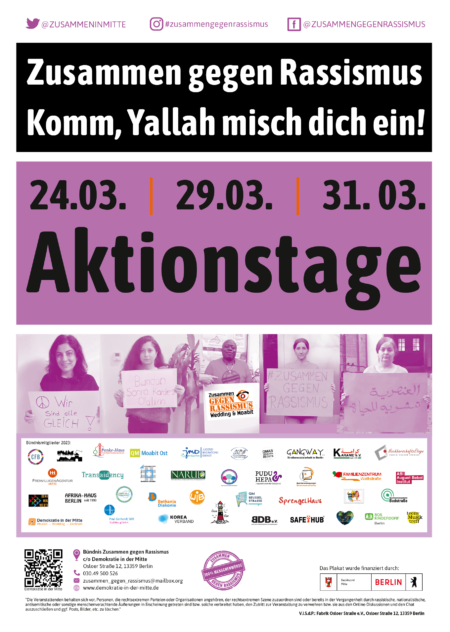 Three campaign days will take place in Mitte. They are organized by the alliance "Zusammen gegen Rassismus", a collaboration of over 36 alliance members, as well as further cooperation partners from Moabit, Wedding, and Gesundbrunnen.
The event kicks off on March 24 with a reading session, soccer challenges, a graffiti event, and a poetry slam.
On March 29, a performance in memory of the racist attacks in Hanau in 2020 by and with students of Carl-von-Ossietzky Gemeinschaftsschule, and Eckener-Gymnasium in cooperation with Maxim-Gorki-Theater will take place at City Kino Wedding. Afterwards, there will be the celebration of the iftar meal.
On March 31, there will be, among other things, an awareness-raising workshop on the interconnection of audism and racism, a reading and discussion on the book "Buch vom Anti-Rassismus", as well as an empowerment workshop for children affected by racism.
The complete program of the campaign days can be found here and will be published in the coming days on the Instagram channel of Zusammen gegen Rassismus.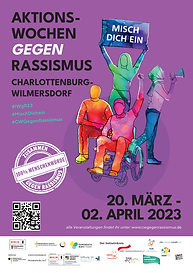 Charlottenburg-Wilmersdorf against Racism
The alliance "Initiativkreis CW-gegen-Rassismus" realizes an extensive program in Charlottenburg-Wilmersdorf yet again this year.
From March 21–23, the intercultural meeting center "Pangea-Haus" organizes a pgrogram to criticize racism over several days with, among other things, film screenings, workshops, and information meetings.
A selection from the diverse program in Charlottenburg-Wilmersdorf:
On March 20, a workshop will take place entitled "Kenne deine Rechte(n)" with information on which right-wing extremist groups, signs, symbols, and codes are banned, and how right-wing extremists use the discourse around these bans.
On March 23, there will be a workshop on (anti-Asian) discrimination and racism in old age.
On March 27, a neighborhood tour will lead to places of Jewish life in the district.
The complete program for Charlottenburg-Wilmersdorf can be found here.
"Aktionsmärz" in Spandau

In Spandau, the annual Women's and Girls' March is combined with events for the International Weeks against Racism.
On March 21, the International Day against Racism, loud and colorful signs against racism will be set in front of Spandau City Hall. Political representatives, initiatives, projects, and committed people from Spandau raise a flag for 100% human dignity together with the office Stabsstelle Integrationsmangement.
On March 22, a five-hour workshop "Rassismuskritisch Arbeiten" will take place, dealing with various aspects of, sensitization for, and support possibilities against racism in the workplace.
To defend oneself and to intervene in case of discrimination can be practiced using methods from theater pedagogy at the workshop "Zivilcourage – auch eine Frage der Übung!" hosted by Register Spandau on March 24.
The program with all events of "Aktionsmärz" in Spandau can be found here.
People Chain against Racism in Alt-Rudow – Neukölln
For the third time, on Saturday March 25, a people chain against racism initiated by the alliance "Rudow empört sich" will gather in Neukölln. For this purpose, many people will come together in the neighborhood of Alt-Rudow between Neudecker Weg/Groß-Ziethener Chaussee and Köpenicker Str. to set a clear signal against racism, for human rights, and against the right-wing extremist activities in the district and beyond. The call states:
"Racism is not only a problem among Nazis. But where there are Nazis, there is always racism! Neukölln–and especially the southern part of the district–has had a Nazi problem for years. The latest expression of it being the still unsolved series of attacks in Neukölln, which is making headlines nationwide as the "Neukölln-Komplex". (…) Our answer: solidarity against racism, right-wing violence and propaganda!"
Hohenschönhausen against Racism
In the district of Lichtenberg, there is an alliance coordinating activities within the International Weeks against Racism: Hohenschönhausen against Racism.
To kick off the campaign, there will be a large spray chalk event, music, a bicycle parade from Lichtenberg, and many more contributions from the neighborhood on March 20 in Hohenschönhausen in front of the Lindencenter.
Also on March 20, the location "360 Grad" invites to join their film screening. The documentary "Miners Shot Down" about a massacre of striking workers in South Africa remembers the history of South Africa under apartheid conditions.
Finally, on March 30, a reading and discussion with Tebogo Nimindé-Dundadengar will take place at the public library Bodo-Uhse Bibliothek: "Gib mir mal die Hautfarbe. Mit Kindern über Rassismus sprechen". The discussion will include how prejudices can be reduced in early education, which words do hurt and what symbolism is hidden in children's songs.
The entire program of the International Weeks against Racism in Hohenschönhausen and Lichtenberg can be found here.
International Weeks against Racism in Treptow-Köpenick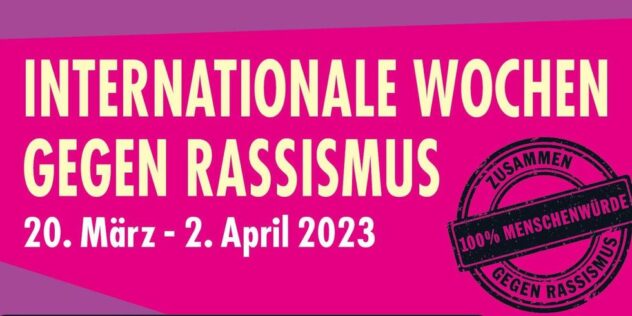 Treptow-Köpenick kicks off its program on March 20 with a film screening and discussion at Casablanca Cinema. The movie "Black faces in white? spaces" by …thabo thindi explores the dynamics and complexities of "being black" in Germany, a country that considers itself homogenously white. Afterwards there will be a discussion about racism in the cultural scene.
On March 25, it's chalk time with the event "Kreidezeit – Courage zeigen gegen Rassismus": On the square at the Kaisersteg in Oberschöneweide, there will be a co-painting action by and with neighbors, where statements against racism will be drawn on the ground with chalk.
On March 28, the documentation center Dokumentationszentrum NS-Zwangsarbeit invites you to a public walk through the district. The three-hour tour leads to historic industrial sites in the neighborhood, and traces the development of the district during the Nazi era, highlighting the connection between war, armaments, and forced labor.
Details on this and the many other events taking place can be found in the district's program overview.
Campaign Week of the Working Group Civic Education Marzahn-Hellersdorf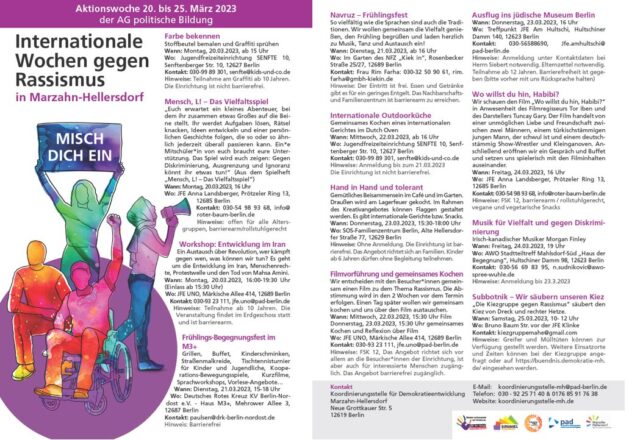 In Marzahn-Hellersdorf, various children's and youth recreational facilities as well as district centers have joined forces to form the working group "AG politische Bildung" and are organizing a campaign week from March 20–25. The program includes film screenings with subsequent discussions, a diversity game, graffiti events and a neighborhood "Subbotnik" against filth and right-wing agitation. The complete program of the action week can be found here.
Background Information on the International Day against Racism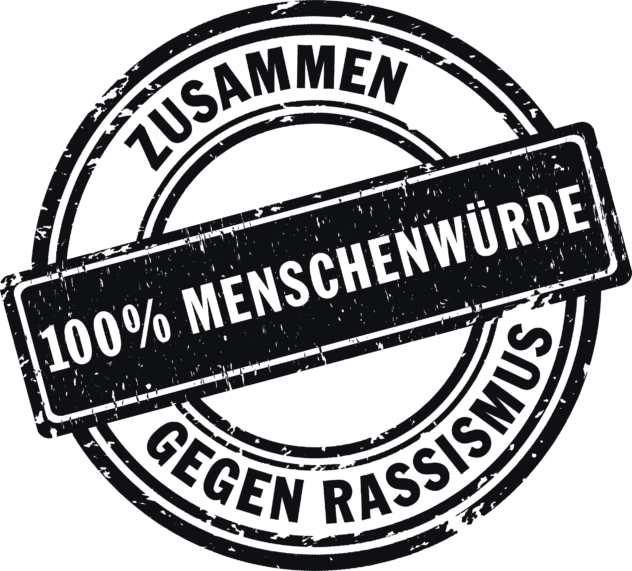 In 1966, the United Nations proclaimed March 21 as the "International Day to Overcome Racial Discrimination". Since 1979, the United Nations has invited all its member states to organize an annual campaign in solidarity with opponents and victims of racism.
This year, the International Weeks against Racism will be celebrated for the 27th time in Germany under the slogan "Misch Dich ein!" More information can be found on the homepage of the Foundation for the International Weeks against Racism.
Further Events in Berlin
This overview might be incomprehensive.
In many districts, including Treptow-Köpenick, Charlottenburg-Wilmersdorf, Lichtenberg, Spandau and Marzahn-Hellersdorf, the Kurdish spring/new year festival Newroz is also celebrated as part of the International Weeks against Racism.
We publish up-to-date information about the campaign weeks and recommendations for individual events on our social media channels. On Twitter and Mastodon, we use the hashtags #noracism, #IWGR and #IWGR2023.