Commemorative events by the Jewish community (Jüdische Gemeinde zu Berlin)
The commemoration of the Jewish Community of Berlin is scheduled to start at 9:00 in Mitte. In front of the Jewish Community Center (Fasanenstraße 79-80, 10623 Berlin), the names of the 55,696 murdered Berlin Jews will be read from the memorial book of the State of Berlin until approximately 21:00. At 19:00, the official memorial service will take place, including prayer, address by the mayor of Berlin, a wreath-laying ceremony, and musical accompaniment.
Commemorative events in Berlin's districts (selection)
Omas gegen Rechts Berlin are organizing a vigil from 17:00 to 18:00 at Große Hamburger Str. 25-26 in Mitte to commemorate the pogrom night.
In Wilmersdorf, Gottfried Keller-Gymnasium will host a commemoration organized by its students starting at 16:30 at the corner of Erdener Str./Königsalle and going towards the memorial track 17 at Grunewald station, from where thousands of Jews were deported from Berlin on trains of Deutsche Reichsbahn.
Starting at 17:00, the parish Evangelische Kirchengemeinde am Weinberg and Katholische Gemeinde Herz Jesu in Prenzlauer Berg will organize an ecumenical memorial walk. Starting point is the church Zionskirche, the memorial path leads to stumbling stones in the neighborhood and remembers the people who lived there and became victims of National Socialism.
The district office Tempelhof-Schöneberg commemorates the victims of the pogrom night at the memorial of the former Jewish synagogue at Münchener Straße 38 with a wreath-laying ceremony, a minute of silence and remembrance, the recitation of a psalm by a rabbi, and musical accompaniment from 17:00.
Also in Schöneberg, at Wittenbergplatz, GEW Berlin will hold a vigil at the memorial plaque in front of Wittenbergplatz subway station from 18:00 to 19:00 with musical accompaniment by a drum group and a choir. It is requested to bring candles.
At 19:00 in the church Hochmeisterkirche in Halensee, members of the Charlottenburg-Wilmersdorf Protestant Youth will perform a theater collage commemorating November 9, 1938. The event will be accompanied by Hochmeisterprojekt and pieces from Duke Ellington's Sacred Concerts. Admission is free, but registration is requested.
The residents' initiative Anwohner*inneninitiative "Hufeisern gegen Rechts" in Britz (Neukölln) commemorates families who hid Jewish people during the Nazi regime in the 1940s and prevented their murder by laying flowers in front of three houses in Parchimer Allee at 19:00. It starts in front of Parchimer Allee 75.
Cleaning events for stumbling stones (Stolpersteine)
In many neighborhoods, there are stumbling stone cleaning events every year around November 9. Please check for local announcements.
This year, DGB Berlin-Brandenburg and DGB Kreisverband Mitte are organizing such a cleaning event of the stumbling stones on November 9 at12:00 at the Siemens Enegry factory yard in Wedding (former AEG turbine factory).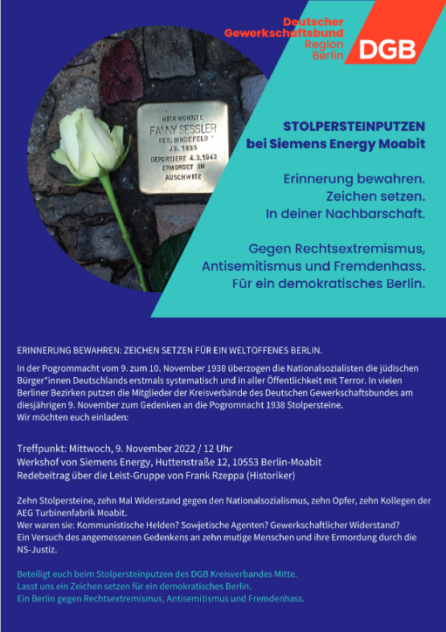 Commemorative rally
In Moabit, an anti-fascist alliance headed by Berliner Vereinigung der Verfolgten des Naziregimes – Bund der Antifaschistinnen und Antifaschisten VVN-BdA is organizing a commemorative event at Levetzowstraße at the memorial for the deported Berlin Jews starting at 18:00. At this commemoration, which has taken place annually since 1990, contemporary witnesses will also address the public.
At 19:30, a demonstration will start there towards the memorial at Putlitzbrücke, from where the Berlin Jews were deported to concentration camps.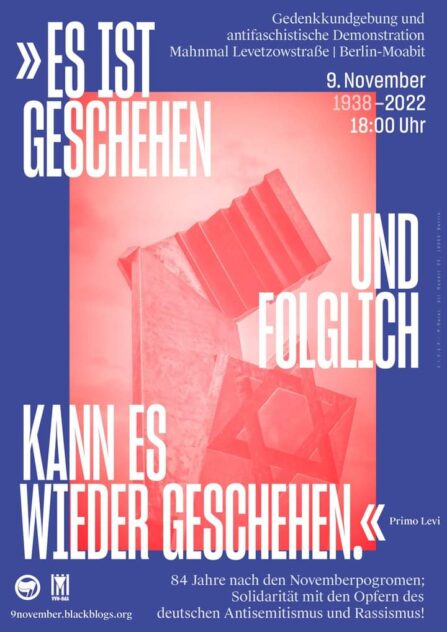 The call "It happened, therefore it can happen again " states:
With this commemoration, we emphasize our demand for compensation for the last surviving victims of National Socialism and the Shoah. Furthermore, we demand that perpetrators of National Socialism who are still alive be punished: We oppose calls for closure and foster the remembrance and a lasting awareness of the crimes of the Nazi regime instead, as the continuity of racist, anti-Semitic, and nationalist attitudes, which led to millions of murders then, form the basis of anti-fascism today.

October 2022, anti-fascist alliance