The campaign week in August, which had previously been announced in the policy paper on March 21, has now transformed into a whole month of campaigning. In August, the participating organizations of children and youth work will deal in-depth with the topics of right-wing extremism, racism and anti-Semitism in their respective facilities. In addition to workshops on strategy and intervention, there will be joint handicrafts and an intensive exchange of ideas. Readings, exhibitions, and theater performances will take place.
On the morning of August 19, the network organizes a meet & greet on the premises of the adventure playground Kolle37 in Prenzlauer Berg. Berlin gegen Nazis accompanies and documents the events and reports on the manifold statements to be expected.
Grips Theater will once again perform the play "Die Welle", and will give visitors the opportunity to reflect on the play together after the performance on August 20. The young people of UNBOX wish to encourage passers-by in Mitte to think about and reflect on the world with a performance: wishmob – Antiracism "What would you like the world to be?" To inspire passers-by in Mitte to reflect and think along. The circus group Chaotisch Bunter Wanderzirkus Cabuwazi will open the exhibition entitled "Forgotten Cosmopolitans – Colorful Diversity in the Circus before, during and after National Socialism" on August 28 at 17:00.
The joint policy paper signed by fourteen partners of the Berlin against Nazis partner network states, among other things:
We, as members of Berlin's children's and youth work – including youth recreational facilities, adventure playgrounds, educational organizations, and children's and youth theaters – are part of Berlin gegen Nazis' partner network. Together with many further individuals and institutions, we clearly speak out against right-wing extremism, racism and anti-Semitism in our work and beyond. Therefore, it is utterly important to us to jointly set a signal on occasion of this year's International Day against Racism on March 21, 2021.

Strengthening children and young people's foundational democratic principles

In our everyday work, we are committed to human and children's rights. In our facilities, we always negotiate current debates, hold and carry out controversies on the ground of the fundamental democratic rights. In the current pandemic, social issues are becoming more pressing, which is why we are challenged more than ever in our work to take a stance against tendencies threatening democracy, simplistic answers, conspiracy narratives, anti-Semitism, racism, and right-wing extremism. At the same time, we strengthen children and young people in their diversity, cultural and political participation, and in sharing their perspectives on the world in solidarity.

Diversity, non-violence, and equality

Child and youth work is always civic engagement for a democratic and human rights-oriented society at large, too. We act as stakeholders in the districts and stimulate debate. And we take a stance: Wherever misanthropic arguments are put forward, National Socialist crimes are denied, and specific groups are blamed for social problems. As role models, we stand for diversity, non-violence and equality. In our work as well as beyond, we wish to be visible: Here are organizations clearly positioning themselves to strengthen human rights and an open society based on solidarity. Thus, we also wish to motivate more people to get involved.

Policy paper #Berlinspieltbunt – Members of Berlin's children's and youth work against right-wing extremism, racism and anti-Semitism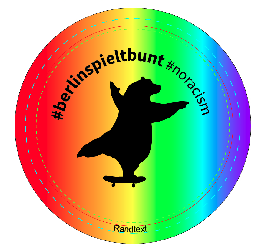 For further current information, use hash tags #berlinspieltbunt and #noracism.