The APP's updated individual agreement regarding user data protection conforms to the EU-General Data Protection Regulation (DSGVO), which can be viewed here. 
The goal of Berlin gegen Nazis is to provide all Berliners with timely information on planned right-wing extremist events to enable as many people as possible to react and actively take a stance. The GEGEN NAZIS APP makes it obsolete to research this news by using push technology to deliver messages to the user's smart phone regarding specific events. The APP's contents are displayed in German, English, and Turkish, thus enabling the diverse communities of Berlin's residents to conveniently remain up to date.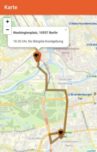 The interactive map enables the user to easily navigate all areas of the city, including those unfamiliar, as to provide an overview of right-wing extremist's demonstration routes, routes of counter-protests and events, as well as the user's real-time location. 
Since 2014, the GEGEN NAZIS App has been available free of charge for the operating systems iOS (Download itunes) and Android (Download Google Playstore). System prerequisites for installation are operating systems iOS 7 or later, or Android 5.0 or later, respectively. This service is unique in Germany.